June 4, 2007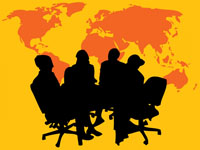 The G8 summit in Heiligendamm, Germany, this week will focus global attention on African development and broader foreign assistance issues.
February 16, 2007
Legislators who hold key environmental posts from 13 of the world's largest industrialized and developing countries urged their countries' leaders to agree at the upcoming G8 summit in Germany to work together to cut CO2 emissions that threaten catastrophic climate change. Christopher Connell, who has been covering the two-day Legislative Forum on Climate Change for CGD's Views from the Center blog, filed his third and final report:
Consensus Statement from G8+5 Legislators on Climate Change

February 9, 2007
Greetings from Rome, where Italy, Canada, Russia, Norway and the UK, with the World Bank, GAVI and the Gates Foundation, have launched the first Advance Markets Commitment. The first AMC will target pneumococcal disease, costing about $1.5 billion and expected to prevent more than 5 millions deaths by 2030.