November 09, 2023
Recommended
There are so many studies regarding so many aspects of development economics that it can be difficult to keep up. Last week was the North East Universities Development Consortium annual conference, often called NEUDC. Researchers presented more than 130 papers across a wide range of topics, from agriculture to education and from labor to climate; almost all of the studies are available for download. This is a great snapshot of the latest research in development economics.
Where the studies are from and what methods they use
The studies take place all over the world (Figure 1). India has more than twice as many studies (23) than the next highest country, Brazil (with 10 studies). Kenya has eight, Indonesia has six, and Bangladesh, Malawi, and Pakistan each have five. A total of 43 countries are represented (not even including regional or cross-country studies that include dozens of countries). If you examine the studies per country population, the top countries are Guinea-Bissau, Uruguay, Malawi, Chile, and Jordan. (Guinea-Bissau and Uruguay just have one study each but have smaller populations.)
Figure 1. Where are recent development economics studies focused?
The research continues to draw on a wide range of empirical strategies—i.e., not just randomized controlled trials, or RCTs (Figure 2). RCTs are the single largest group, but there are still lots of studies using difference-in-differences, fixed effects, and regression discontinuity.
Figure 2. What empirical methods do recent development economics papers use?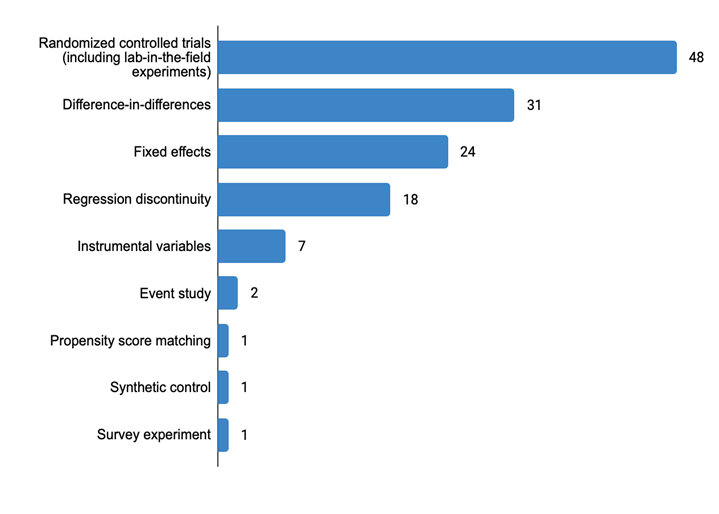 What we learned from 130+ NEUDC studies
We went through each study, and we provide a micro-summary below. Obviously these are just our quick takes. Many studies have more than one thing to teach us, so if our microsummary piques your interest, click the link to the study! Also, take these micro-summaries with a grain of salt: some of these studies are still preliminary (that's indicated on the front page of the studies themselves), and we also largely take the studies' claims at face value (we aren't peer reviewers). Still, there's a lot of exciting research here, teaching us more about both problems and solutions in low- and middle-income countries (and beyond). We hope you learn as much reading them as we did writing them!
Households and human capital
Working and saving
Governments, institutions, and conflict
Agriculture, infrastructure, and the environment
The order of authors on this blog was determined by a virtual coin flip. This blog post benefited from research assistance by Amina Mendez Acosta and editing by Jeremy Gaines. A version of this post appears on the World Bank's Development Impact blog.
Disclaimer
CGD blog posts reflect the views of the authors, drawing on prior research and experience in their areas of expertise. CGD is a nonpartisan, independent organization and does not take institutional positions.