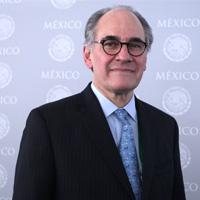 My guest on this week's Wonkcast is Herminio Blanco, Mexico's former minister of trade and industry, and one of the nine candidates to become the next director general of the World Trade Organization. Minister Blanco tells me the WTO is facing several challenges, and his experience negotiating numerous trade agreements including NAFTA, combined with more than a decade of experience in the private sector, equip him with the skills needed to push the WTO forward.
"The rules for the WTO were drafted 20 years ago, and as you know, the way of doing business has changed substantially," Minister Blanco explains. "The network of free trade agreements that exist in the world, and very importantly the Trans Pacific Partnership (TPP), present big challenges for the WTO."
Minister Blanco says his experience in the business sector gives him a different perspective on how the WTO can help to ensure that the investments businesses make will help to generate employment and prosperity for countries with lower levels of development.
"What I've learned from business is that we need to be able to invest and have transparency in rules for trade and investment," Minister Blanco says. "I think it's fundamental that the rules in the WTO are modern, so the organization keeps on being the benchmark for agreement on world trade."
I ask Minister Blanco what he would do about the stalled Doha development round of trade talks if elected director general.
"My view is that it's very important to get a substantive resolution to the Doha agenda," he says. "I believe these negotiations should bring a call of attention to countries [represented] in Geneva… it's time to be more flexible and it's time to start moving."
Minister Blanco also tells me the least developed countries stand the most to lose from a failed Doha Round. Therefore the larger countries should be more flexible, so the smaller countries can receive the benefits for which the Doha Round was intended.
Minister Blanco has outlined his program into a short and medium-term horizon, and a third portion he calls inclusiveness in integrating regional trade agreements. As part of his short term horizon, Blanco would like to see results from the trade ministerial in Bali this December. He tells me negotiators in Geneva are working on a promising trade facilitation proposal that could unlock billions of dollars in trade.
"The package will decrease obstacles for import and export in many countries," he explains. "It's an attempt to clean the borders of all the inefficiencies. That negotiation could be a very good signal of progress being made in Geneva."
As part of a medium-term agenda, I ask Minister Blanco what role the WTO has in the international policy response to climate change, for example,  how should the WTO regard the possibility countries that put a price on carbon imposing border tax adjustments on those that do not?
"I think it is important to protect the high values of humanity, one of them being the environment. But not to do it by putting obstacles that may go against the commitments of different countries within the WTO," he tells me.
Minister Blanco ends our interview by discussing—and commending—the WTO director general selection process, a topic that CGD senior fellow Kimberly Elliott also discussed—somewhat more critically-- in this recent blog post.
The full interview is available above. This is the sixth in a planned series of Wonkcasts with candidates to become the next director general of the WTO. To learn when new interviews are posted, sign up for our weekly Development Update.
My thanks to Alex Gordon for editing the Wonkcast and providing a draft of this blog post.
Disclaimer
CGD blog posts reflect the views of the authors, drawing on prior research and experience in their areas of expertise. CGD is a nonpartisan, independent organization and does not take institutional positions.
Topics