It is UNGA season here in New York City, which spells the annual arrival of scores of world leaders, snarled traffic, and headline-grabbing announcements from the international development community. It also marks my return to the CGD blog, this time wearing a different hat than in my previous work with Millions Saved and the Center's Pakistan program. I am delighted to share with CGD readers the exciting news from the sidelines of UNGA of the launch of a brand new organization, whose design and incubation I have supported over the past year while CGD has (once again!) hosted me.
This afternoon, USAID Administrator Raj Shah and DFID Secretary of State Justine Greening will formally launch the new Global Innovation Fund, or GIF for short. Three additional financial partners — Omidyar Network and the governments of Sweden and Australia — and GIF's terrific board chair Russell Siegelman will also participate in the launch. Together, the five financial partners will announce a funding pledge of more than $200 million over five years. Matt Bannick, managing partner at Omidyar Network, called GIF a "big step forward for impact investing and international development," while USAID Administrator Raj Shah cited the partners' "historic commitment" that will "mobilize unprecedented resources to support innovations that help the world's most vulnerable people break the cycle of extreme poverty."
What Is the Global Innovation Fund?
GIF is a new fund, headquartered in London, which invests in social innovations that aim to improve the lives and opportunities of millions of people in the developing world. Inspired by venture capital, GIF seeks innovative solutions that can scale up commercially, through the public or philanthropic sectors or a combination of both. GIF accepts proposals to fund innovations in almost any developing country, across any sector, and from any type of organization. GIF offers between $50,000 and $15 million in the form of grants, loans (including convertible debt), and equity investment to innovators at varying stages of maturity, from early stage ventures to larger more established entities operating at scale.
It is worth clarifying how GIF defines "innovation," a term whose near ubiquity in development discourse risks muddling its meaning. At GIF, the pursuit of innovation entails backing solutions and approaches with the potential to be substantially more cost effective and successful than current practices. GIF does not exclusively focus on new technological approaches. Indeed, some of the most successful development solutions at scale to date have been decidedly low-tech or even no-tech. (Several Millions Saved case studies come to mind, including oral rehydration therapy, conditional cash transfers, and guinea worm control.) GIF takes an expansive view of "innovation" and supports new and innovative service delivery or management models, behavior-change tools, policies, processes and products, as well as innovative technologies.
What Makes the Global Innovation Fund Unique?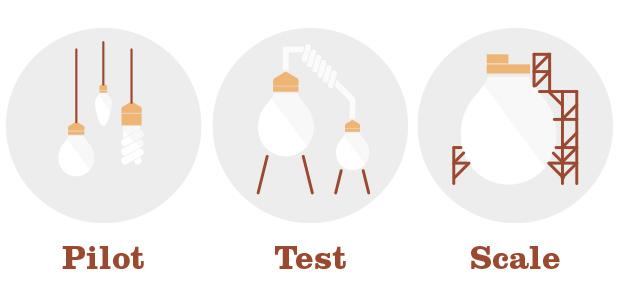 GIF stands apart from many other innovation vehicles in several key ways. Borrowing from the experience of venture capital, GIF offers three stages of financing to pilot, test and scale innovations. (GIF expects its innovators to eventually be sustained without GIF funding.) GIF is willing to take small bets on unproven ideas that are ready to be piloted. However, GIF invests the largest funding amounts in innovations that have demonstrated strong evidence of success, through rigorous impact evaluations where possible. By meeting the financing needs of innovators from the seed stage right through to expansion funding, GIF will help transform high potential ideas into impact at scale. 
GIF's launch is well timed. Just last week, the G-8's Social Impact Investment Taskforce released its report, The Invisible Heart of Markets: How Impact Investing Is Harnessing Innovation and Capital for Public Good, which echoes recommendations in the US National Advisory Board report, Private Capital, Public Good:  How Smart Federal Policy Can Galvanize Impact Investing — and Why It's Urgent. The reports encourage the governments of the United States and other G-8 countries to accelerate impact investing through new approaches and partnerships. Both reports cite GIF (through its old name, GDIV) as an example of such an effective partnership, because GIF helps fill the well-documented "pioneer gap." Very few impact funders support the small emerging "pioneers" in the development innovation space due to risks, infeasible transaction costs and due diligence issues, and as a result, many promising ventures are stranded without funding. GIF explicitly addresses this pioneer gap through its flexible financing, which starts at just $50,000 and graduates to up to $15 million as innovators show greater evidence of success.
Looking Ahead
I am grateful to CGD for providing an institutional home for my work over the past year in the design and incubation of GIF. The Center has a rich history of catalyzing efforts to improve aid effectiveness and development policy, including through pioneering innovative development policies and paradigms.  The center's support for GIF complements — and indeed GIF's model builds on — other past and current CGD initiatives, including the Closing the Evaluation Gap working group, the center's incubation of 3ie, the Development Impact Bonds working group, the center's pioneering work on Cash on Delivery Aid, its catalytic support for advance market commitments, and analytical work on impact investing.  
GIF is now open for business and accepting proposals online from a wide range of innovators: social enterprises, for-profit firms, researchers, government agencies, nonprofit organizations, and others. If you or someone you know has an innovation that could address an important development challenge, we encourage you to apply now at www.globalinnovation.fund.
Disclaimer
CGD blog posts reflect the views of the authors, drawing on prior research and experience in their areas of expertise. CGD is a nonpartisan, independent organization and does not take institutional positions.