Businesses working at the intersection of development and increasing shared value constantly find themselves navigating the question of whether or not they are having an impact. Impact, in this scenario, is defined by scale in number of customers (or beneficiaries) reached. Though the language may be fuzzy and the impact hard to measure, the question for any business working with those at the bottom of (or near the bottom of) the pyramid remains: to scale or not to scale? My own research on business innovations and the diffusion of off-grid solar technologies in India can help shed some light on the challenges and opportunities of scaling specific to that sector.
India is a country of 1.2 billion people, with over 400 million who lack access to reliable electricity. Government plans to provide power for all by 2019 include using distributed (off-grid) energy sources such as solar home lighting systems, solar lanterns and solar powered micro-grids. Buoyed by the UN's Sustainable Energy for All (SE4ALL) target to provide universal electricity access by 2030, entrepreneurs with novel business ideas have burst on to the scene. These entrepreneurs are taking advantage of both public and private capital to set up enterprises with a variety of innovations to capture this large market of consumers. In order to differentiate these enterprises from one another, we must create a typology based on their business models (see table below).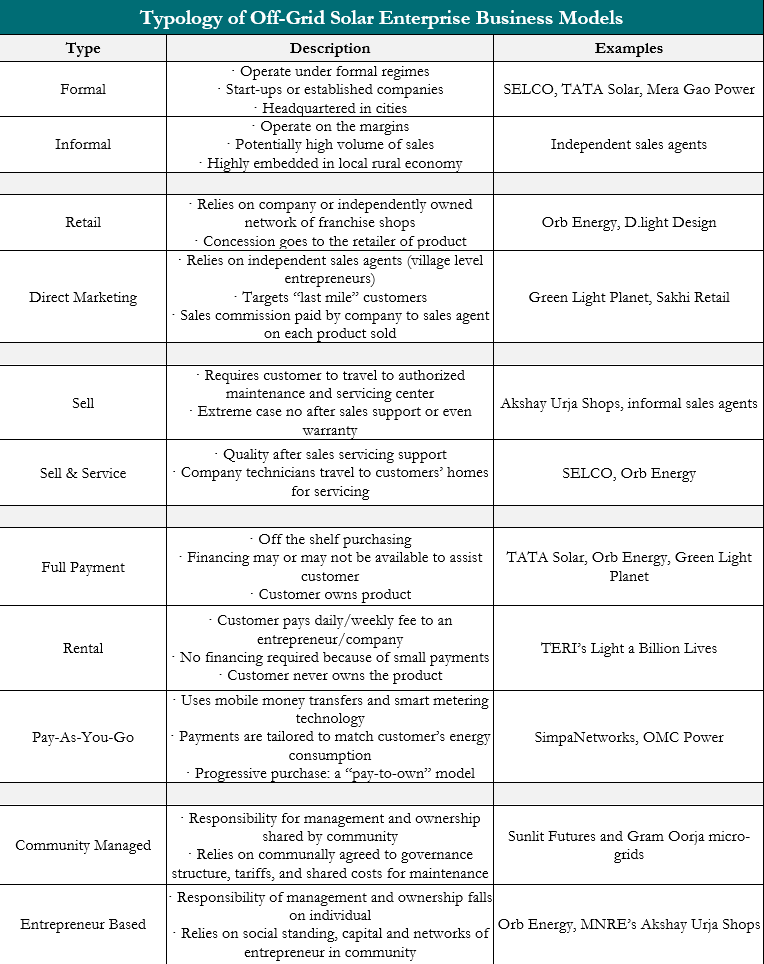 But on scaling, my research shows that those businesses that achieve high unit sales in providing solar energy services to the poor are also doing so at the expense of providing greater technology choice options to their customers. When it comes to solar technologies, not all of them are the same. Whether or not you provide simply lighting or charging for mobile phones or energy for a higher productivity generating activity makes a difference. And ultimately the poor must be able to get up the energy ladder as their incomes and needs rise. For that there must be greater technology choice options.
In addition, the research reveals that the more products a firm provides, the more likely it is to also provide financing for its customers. While it is questionable whether end-user financing or subsidies are still needed to acquire solar energy services for everyone, certainly those at the very bottom of the pyramid need the help of financial innovations employed by businesses that make access to solar energy services easy and reliable. Companies employing pay-as-you-go (PAYG) solar home lighting systems and micro-grid operators that allow for mobile payments are a good example. Investors and policymakers must consider the possible trade-offs between supporting firms likely to achieve scale and those likely to provide financing.
Finally, the value of scaling should be questioned in an industry that should be trying to move from providing technologies to quality energy services. Finding a balance between simply achieving scale in numbers and assuring that quality, defined by sufficient energy and an ecosystem of support structures for the technology post deployment, is essential if one is to genuinely provide access to energy for improving the livelihoods of those who need it most.
This blog is part of the November 2016 series on Scaling and replicating inclusive business models, in partnership with DFID and SEED. Explore with us the key ingredients of a pathway to scale, debates and new ideas on replication, and look at what small companies, large companies and ecosystem actors can do.
Disclaimer
CGD blog posts reflect the views of the authors, drawing on prior research and experience in their areas of expertise. CGD is a nonpartisan, independent organization and does not take institutional positions.