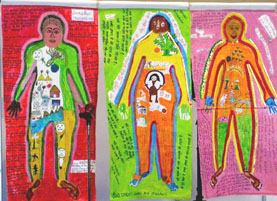 After four days of official speak, diplomatic handshakes and business card swaps at the International AIDS Conference in Toronto, I decided to take a stroll through the Global Village, the open-to-public forum for exchange of information about AIDS as it really affects people. As I entered the Global Village, large, full body size maps of women in vibrant colours and lots of information beckoned me to one corner of the room. Our Positive Bodies -- Mapping Our Treatment, Sharing Our Choices, a session organized by the Trust for Indigenous Culture and Health reminded me why I am -- and hopefully all us are -- here.
Three women from Thailand, Kenya and India, walked the audience through their body maps, describing the experience of living with HIV, seeking treatment (or not) and being on medications. These are powerful stories about married, monogamous women, infected by their husbands who have taken control of their lives "positively" after being ostracized by society for living with HIV. Story after story presents us with the harsh realities of health interventions implemented with a gross neglect of the context of their patient's lives. "How can we follow nutritional advice from Doctors about nourishing ourselves while on ARVs when we have no food?" Or: "The doctor told me to eat fish while on ARVs, but I cannot afford that." One women pointed to a bar graph painted on top of her head and explained that she mapped this visual on her head because she wanted to let everyone know that she is constantly worried about her CD4 count even though she is on treatment. Another woman highlighted the telephone painted inside her body symbolizing the numerous phone calls she receives everyday from HIV+ people who call her for advice, now that she has shared her status publicly.
These are just a few stories of women who have managed to fight the virus in their bodies, not just with meds, but with courage to let the world know their stories. Listening to these stories is a wake-up call for the architects of global aid and the designers of global programs -- investments in technology alone will not allow us to conquer HIV. Whether it is an ARV, vaccine or microbicide (in the near future!), these are but efficacious tools that must be used by people to be truly effective and this will happen only if we address the context of poverty and power through investments in development. HIV is a virus, but it has a lot more power than just invading our T-cells, it is invading our lives and our response must acknowledge that.
Disclaimer
CGD blog posts reflect the views of the authors, drawing on prior research and experience in their areas of expertise. CGD is a nonpartisan, independent organization and does not take institutional positions.