Poor regulation is a key obstacle to financial inclusion. An enabling regulatory environment is critical for creating incentives for businesses to offer innovative financial services to the poor, and for underserved customers to take up formal financial services.
While new technologies have broadened access to financial services among the poor, they have also introduced new risks. The primary challenge for regulators is to broaden financial access while ensuring financial stability, integrity and consumer protection. How can regulators balance these multiple objectives?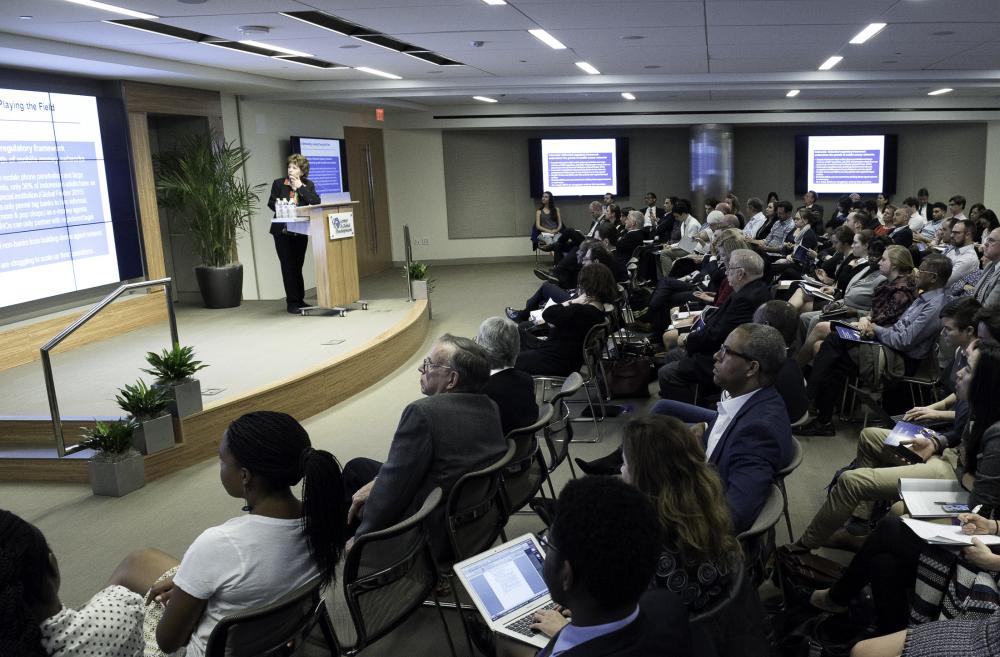 The topic was the center of discussion at a recent event at CGD to launch Financial Regulations for Improving Financial Inclusion, a report by the high-level CGD Task Force. The event kicked off with opening remarks from Marisa Lago, Assistant Secretary for International Markets and Development, U.S. Department of Treasury, who stressed that regulatory structures must keep pace with evolving technologies in the digital finance space to protect consumers and the financial system without suppressing innovation. "As the report rightfully indicates," she commented, "regulations should be appropriately tailored according to risk, and in particular the risks associated with services being provided but also the scale at which they are provided."
The keynote address was followed by a presentation by co-chair of the CGD Task Force, senior fellow Liliana Rojas-Suarez, who gave a brief overview of the framework and stressed three key principles for regulations for financial inclusion: similar regulations for providers carrying out similar activities regardless of institutional form, regulation proportional to risk imposed by the particular activity, and a balance between ex ante and ex post regulations to allow for experimentation and innovation.
How can regulators level the playing field between different forms of service providers?
Stijn Claessens, Senior Adviser to the Federal Reserve Board and the other co-chair of the Task Force, stressed the importance of a level playing field between different providers of similar services, such as banks, mobile network operators and other digital financial services providers. That essentially means the creation of a regulatory environment where similar services are treated equally, regardless of the institutional form of the provider. Basically, regulations should be tied to the risk that the provider's activities pose to the consumers and the financial system. For example, the regulatory standard applied to a digital financial institution that only engages in small payments should be lower than the standard applied to a full-service bank. However, when the same institution starts offering bank-like services such as store-of-value and credit, the applicable regulatory standard would be higher. In a nutshell, if you act like a bank, you should be regulated like a bank.
How important is national identification for Know-Your-Customer (KYC) rules?
A unified national identification system, although an expensive goal, is important to create a financially inclusive system. In order to implement risk-based KYC procedures that expand access to financial services among the underserved while minimizing the risks of illicit fund activities, it is crucial that financial institutions have access to accurate information about consumers. CGD's Alan Gelb leads the field in research on biometric identification for development, and at the event he noted how many countries have unfortunately seen the development of multiple identification systems, which is not only costly for individual institutions but also makes "knowing your customer" harder. Njuguna Ndung'u, the former Governor of the Central Bank of Kenya, who oversaw the rollout of the hugely successful digital payment system M-Pesa, further stressed that it is not important to just have an ID, but to have a legitimate ID. Alan Gelb recommended that ID systems need to transition from identifying cards to identifying people with the help of biometric technology.
Here at CGD we will be continuing the conversation about regulatory principles to broaden financial inclusion. While there is no "one-size-fits-all" solution, as each country's opportunities and challenges are likely to differ, we hope that the broad principles put forward in this report can serve as a guiding tool for countries seeking to expand financial services to traditionally excluded segments of the population.
Disclaimer
CGD blog posts reflect the views of the authors, drawing on prior research and experience in their areas of expertise. CGD is a nonpartisan, independent organization and does not take institutional positions.