Ethiopian Immigration to Washington
Tuesday, June 26, 2007 -

12:00pm

to

2:00pm
Author
Dinaw Mengestu's
debut novel,
The Beautiful Things That Heaven Bears
, follows an Ethiopian émigré as he navigates life in a gentrifying Washington, DC neighborhood in the 1970s. Likewise,
Chris Flaherty's
Migration of Beauty
documentary focuses on Ethiopians coming to the U.S. and their experience and issues associated with assimilation. CGD Research Fellow
Michael Clemens
, who studies the effects of skilled-worker emigration on developing countries, moderated the discussion of the topics portrayed in Mengestu's novel and Flaherty's documentary that examines not only the experience of those who have emigrated, but also the impact on the countries they have left.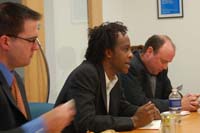 This event is part of the Center for Global Development's series of Movies, Books, and Conversations: Development Matters
Upcoming Events