Last November, CGD turned 20. As we approached our anniversary, we took some time to evaluate how we've grown, where we're headed, and how our visual brand and content should reflect these ideas.
Today, we're pleased to launch the new CGDev.org, featuring a refreshed brand, timely content and events, and a more accessible and intuitive experience.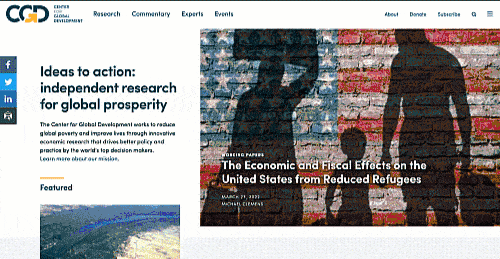 Why the New Look?
We designed our new website with the following goals in mind:
Introduce CGD's new brand
Underscore our role as a convener and partner, and highlight our experts' work beyond CGDev – through events, media coverage, and more
Elevate timely commentary and analysis
Renew our focus on outcomes and impact
Keep in step with current digital trends, responsive designs, and best practices
Reevaluating the CGD Brand
Earlier in the year, we asked you – our readers – how you would characterize CGD, and this what you said:
evidence-based
informative
influential
In collaboration with our staff and stakeholders, we carried these ideas forward in our new brand identity. The new logo carries many elements from its predecessor—variations of our teal and gold, and the CGD arrow, signaling our focus on innovation and global prosperity—in recognition of CGD's first 20 years of impact. At the same time, the simplified, modernized look of the new brand reflects our commitment to continue our forward-thinking approach to the world's challenges, to keep evidence and fact as our guide, and to make sure this knowledge can be put into practice by the world's top decisionmakers.
Beyond the Brand, What's New?
Impact stories: As part of our anniversary year, we've created a dedicated space to highlight development wins CGD has had over the years. From changing the conversation on China's Belt and Road Initiative to the ideation and development of Global Skill Partnerships, CGD has been creating innovative ideas and informing better development practices. Be sure to watch this space!
Programs goals and results: These new features allow you to learn more about each of our programs, from global health to sustainable development finance and more.
Dynamic content: You can find regularly featured content on our new RESEARCH and COMMENTARY pages, explore experts' Twitter feeds, and more.
An improved and intuitive navigation: In our new pop out menu, TOPICS and ABOUT serve as complements to one another: what CGD does, and who CGD is. In addition we have a set of quick links for easy exploration.
Our digital-first publications are getting a makeover: Take a look!
We invite you to explore and share with your networks!
If you haven't already, sign up to receive updates from CGD. You can also follow us on Twitter, Facebook, and LinkedIn.
Disclaimer
CGD blog posts reflect the views of the authors, drawing on prior research and experience in their areas of expertise. CGD is a nonpartisan, independent organization and does not take institutional positions.
Topics