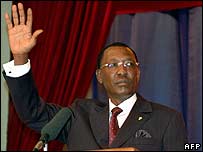 Chad has expelled oil giants Chevron and Petronas from the country for allegedly failing to pay taxes. The press seems to be suggesting that the move is either another Bolivia-style nationalization or simply the government moving the American and Malaysian companies out of the way for another investor:
Privately, many observers feel the firms may have been kicked out to make room for Chinese oil companies. Just three weeks ago, Chad resumed diplomatic relations with Beijing.
But there are many unknowns before jumping to any conclusions. First, Idriss Deby is no Evo Morales. While Morales' approach may be flawed, he seems to genuinely be worried about Bolivia's poor; Deby has no such concerns and is little more than a warlord.
There are also questions about the nationalization. Bolivia's YPBF has serious questions about its 'capacity' to manage a gas business. With Chad there are no questions; the government has no ability whatsoever to run an oil company. This may not stop them from trying (no doubt with disastrous consequences), but if the government really wanted to just take over the oil, then why leave ExxonMobil, the consortium lead, untouched? The selectivity suggests there is something else going on here, probably an internal dispute within the cabinet over oil rent (hence the dismissal of the oil minister).
One thing seems perfectly clear however: World Bank President Paul Wolfowitz was right to play hardball with Deby over the use of oil revenues in January when the latter unilaterally reneged on the deal that allowed the Chad-Cameroon pipeline to go through with Bank support. At the time, critics thought Wolfowitz was too hard on Chad (and others such as Congo-Brazzaville) and the Bank eventually relented with a partial climb-down. The recent experience is likely to chasten the Bank when thinking about taking on risks like Chad-Cameroon. But hopefully the good news is that it will also help Wolfowitz when he confronts the next crooked thug.
Disclaimer
CGD blog posts reflect the views of the authors, drawing on prior research and experience in their areas of expertise. CGD is a nonpartisan, independent organization and does not take institutional positions.