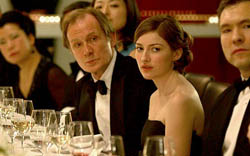 There were few surprises at this year's 58th Annual Primetime Emmy Awards, with the usual suspects--24, Will & Grace, West Wing and the perennial thinking-crowd favorite Daily Show with Jon Stewart--all nabbing awards yet again. One win did stand out, however; The Girl in the Café, a HBO Films/BBC co-production that deals with the G8, Millennium Development Goals, and world poverty, took home three awards.
Actress Kelly Macdonald trounced Hollywood legends Ellen Burstyn and Cloris Leachman for "Supporting Actress, Miniseries or Movie." The film's writing, according to the Academy, outshone public television darling Masterpiece Theatre's Bleak House and the stately Elizabeth I. In the "Outstanding Made for TV Movie" category, Girl even managed to beat out the dual nomination of two September 11th - themed films. I couldn't help but wonder…is Hollywood starting to think more globally and less parochially? With Clooney, Pitt, and Jolie now trekking the globe, are these topics--previously deemed "unsexy"--now winning over the hearts and minds of Tinseltown? Take, for instance, the film Yesterday nominated alongside Girl in the Cafe. It's the first international feature film ever shot in the Zulu language and the first South African film to receive an Oscar nod.
Last year, CGD co-hosted the premiere of The Girl in the Café, with the Council on Foreign Relations and HBO Films. The film boldly addresses the issue of rich countries' responsibility to developing countries, as a bureaucrat working for the UK's Chancellor of the Exchequer builds a relationship with a young woman who, while passionate about the issues of poverty, debt, and trade policies, doesn't adhere to the conventional language of development. She relies instead on dramatic pronouncements such as snapping her fingers to demonstrate every second a life is needlessly lost (see the ONE Campaign's Click Video). Hers is more than a distracting voice at the table--it's so upsetting to the G8 participants that she's forcibly removed from the conversation. For my money, it's heartening to see cinematic depictions of women challenging a complacent system (think Rachel Weisz in The Constant Gardner) and more rewarding still to see mainstream Hollywood take up their cause.
As for the Millennium Development Goals, another G8 has since passed and we are nowhere near achieving them. Can Hollywood save us?
Disclaimer
CGD blog posts reflect the views of the authors, drawing on prior research and experience in their areas of expertise. CGD is a nonpartisan, independent organization and does not take institutional positions.