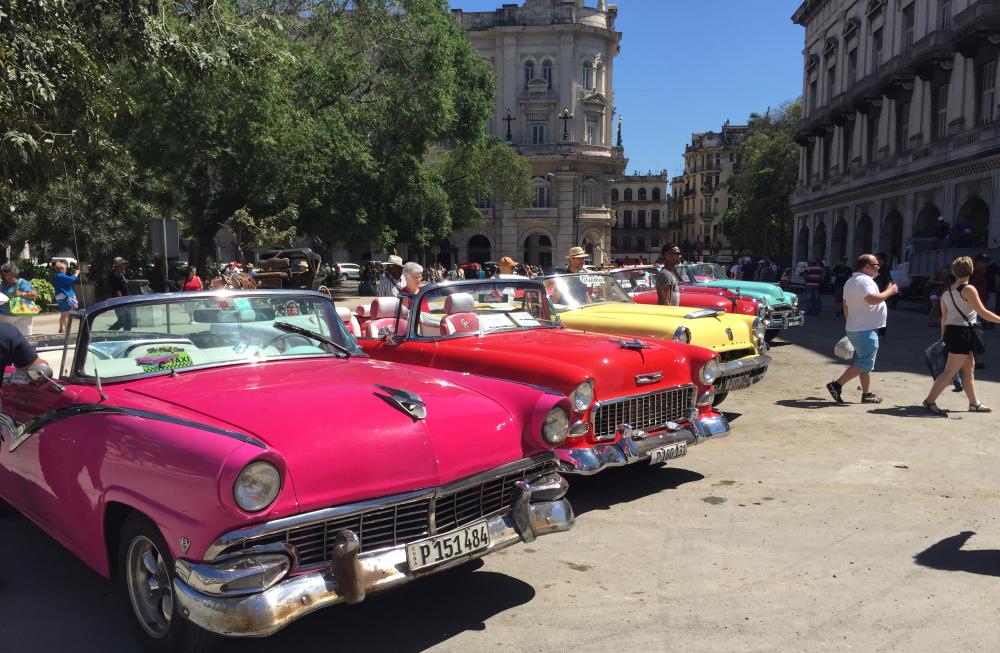 Photo by Todd Moss
Barack Obama is going to Cuba. The Rolling Stones are going to Cuba. Our own Todd Moss just returned from Cuba.  The question is: will private investors go to Cuba?
Lifting the trade and investment embargo on Cuba is a laudable policy objective that would allow Cubans better access to American goods and services. It might also give American businesses a boost, including from places that could do with one, like rural Louisiana. Changing the law will be an uphill struggle unless November's elections transform Congress. But even if Congress can agree, changes to the law might not be sufficient to convince investors to go to Cuba.
What's the problem?
Over the past 12 months, we've been studying the unintended consequences of anti–money laundering (AML), counter the financing of terror (CFT), and sanctions enforcement.  We find that banks have become extremely risk averse regarding these regulations. Regulators often underestimate what it will take to get transactions moving in the current climate of fear.
For example, remittance companies are finding it increasingly difficult to get and keep a bank account.  In response, regulators and standards setters have issued document after document clarifying their expectations. Regulators believe that these statements should be sufficient to improve financial access for remittance companies. But despite repeated reassurances to this effect, the problem seems to be getting worse.
Similarly, non-profit organisations are finding it difficult to conduct essential work in areas that are perceived to be high risk.  For example, Journalist Amy Maxmen reports that NGOs can't get medicines into South Sudan despite medical supplies being excluded from sanctions. This is because banks are unwilling to process payments, fearing that there could be regulatory repercussions.
Businesses are still paying out large amounts of money for violations of the embargo on Cuba. Halliburton just settled a case for more than $300,000 relating to an investment in an Angolan oil and gas consortium that is 5 percent owned by a Cuban company.
Cuba is no longer a US-designated state sponsor of terrorism. It is also considered to be a fully compliant member of the Caribbean standards setter for AML/CFT regulation and was removed from the Financial Action Task Force's list of risky jurisdictions in October 2014. Of course, Cuba must continue to take steps to responsibly integrate its financial system with those of other countries. But even if Cuba does continue to behave and US lawmakers agree to dismantle the embargo, it may take a while for investors and banks to do business in Cuba.
What can we do?
The Cuba embargo is made up of at least five statutes and one executive order.  Many of the 30+ federal agencies that are involved in AML/CFT and sanctions enforcement in the United States are also involved in the implementation of this embargo. Unwinding this web of regulation will be a complex process. If it is not done in close consultation with the business whose behaviour it is seeking to change, then it may not work. Representatives of the financial services industry may need to be brought into the process to ensure that the changes to laws, standards, and guidance will be sufficient to alleviate the fears of banks and to get investment flowing.
The desire to normalise relations with Cuba should also motivate a more serious consideration of how rich countries enforce sanctions and AML/CFT laws. Our report contains five sets of recommendations for how to improve that system to facilitate financial inclusion while also strengthening the system to keep money out of the wrong hands.
Disclaimer
CGD blog posts reflect the views of the authors, drawing on prior research and experience in their areas of expertise. CGD is a nonpartisan, independent organization and does not take institutional positions.