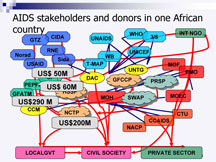 A few days ago CGD hosted a panel, "Where is the Comparative Advantage: The Global Fund and World Bank HIV/AIDS Program Moving Forward", with Christoph Benn of the Global Fund, Jonathan Brown from the World Bank, and Alex Shakow, author of a recent study (PDF) on comparative advantages between the two institutions.
With large increases in funding going to AIDS programs in developing countries - $5.7B in 2005 - it is important that we study the impact of these programs. There are a few countries, such as Ethiopia, Kenya, Uganda, Mozambique, Tanzania and Rwanda that are receiving large grants from all three of the major donors, the Global Fund, the Bank, and the US Government.
Donor coordination is a major problem, and the donors are starting to notice. This slide (PDF) depicting donor coordination in one East African country shows how complicated the situation on the ground can be. Rwanda has garnered attention because it manages donors better, and forces them to fit into existing coordination frameworks.
The partners need to start working better among themselves, rather than competing to put more patients on drugs and fighting to get the "best" clinics and hospitals. Donors and partners must move past trust-based, ad hoc relationships. Partners should clearly define their roles and responsibilities, so that they can be held to their commitments. And senior management of these major AIDS programs should give their field staff the time, and the mandate, to spend part of their days coordinating with their colleagues in other programs. Coordination takes time – it isn't a free activity for overworked field staff.
The World Bank and the Global Fund should be commended for commissioning this report on comparative advantages(PDF). Let's hope that they, and other partners, improve coordination and reduce burdens on the countries.
Disclaimer
CGD blog posts reflect the views of the authors, drawing on prior research and experience in their areas of expertise. CGD is a nonpartisan, independent organization and does not take institutional positions.