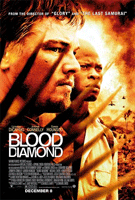 Heading to the local multiplex this weekend to enjoy the blockbuster Blood Diamond, starring Leonardo DiCaprio? Why not bring some analysis along to go with your popcorn? In a new CGD Note, Freetown to Hollywood: The Kimberley Process Takes on Africa's 'Blood Diamonds', my colleague Todd Moss and I bring the issue portrayed in the film up-to-date, shedding light on the current role that diamonds play in Africa's resource rich countries.
On Wednesday, December 13th, CGD is planning an informal meet-up, in the DC area, around this topic. Catch Blood Diamond at Regal Cinemas Gallery Place Stadium 14 (707 7th St., NW Washington, DC 20001) and then head over to RFD (810 7th St NW -- 202-289-2030) to discuss conflict diamonds, among other development topics, with CGD staffers. We'll plan to gather at RFD around 7:30pm for discussion, casual networking and a terrific beer selection. Hope to see you there.
Disclaimer
CGD blog posts reflect the views of the authors, drawing on prior research and experience in their areas of expertise. CGD is a nonpartisan, independent organization and does not take institutional positions.