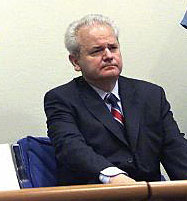 The death Saturday of former Serbian dictator Slobodan Milosevic (see the BBC Online for one of the many obits) provides only cold comfort to the thousands of families shattered by his policies of ugly nationalism during the 1990s. A guilty verdict would have been much better, but one can at least hope that Milosevic's death will enable Serbia to finally reject his discredited politics, and, by extension, redeem Serbia's international standing, as well as development prospects for the Western Balkans.
After being extradited to the International Criminal Tribunal for the Former Yugoslavia at The Hague in 1991, Milosevic was finally nearing the end of his trial for war crimes. A conviction was highly likely, and his death by heart attack at age 64 means that victims of his aggression will never see the primary aggressor of the disastrous wars in Bosnia and Kosovo face justice. As the Cold War ended, Yugoslavia was uniquely poised to join the free-market democracies in Western Europe. Instead, the region imploded in a mix of ethnic-based violence and recrimination. While Milosevic was, by no means, the only Yugoslav politician to appeal to nationalist sentiment, the degree of his savagery sets him apart. His policies of ethnic cleansing, mass rape, shelling of civilians, and torture led to the deaths of well over 100,000 people and the creation of more than a million refugees and internally displaced persons. The physical and psychological scars in Bosnia and Kosovo will last decades.
The hope now is that the Serb public, for years convinced by their leaders that "anti-Serb forces" – Bosnian Muslims, Kosovar Albanians, Western politicians, etc. – were to blame for their woes, will acknowledge the sins of Serbia's past, and move toward closer relations with the EU and the United States. Serbia's size and strength has long made it a pivotal player in the Balkans. The economic, political, and social re-development of Serbia could therefore potentially bring positive spillover effects to poor neighbors like Montenegro, Albania, and Macedonia. The suspicion in Serbia and Moscow that Milosevic was poisoned or maltreated at The Hague, however, reads like more of the same paranoia and resentment that has alienated Serbia from efforts to bring war crimes suspects to trial, and threatens to derail any progress. But it's possible that with Milosevic gone, and talks beginning on the final status of Kosovo, that this least-integrated part of Europe may finally turn a corner and move toward the economic and political openness that has served Eastern European nations like Slovenia, the Czech Republic, and Poland so well over the past 15 years.
Disclaimer
CGD blog posts reflect the views of the authors, drawing on prior research and experience in their areas of expertise. CGD is a nonpartisan, independent organization and does not take institutional positions.