Media Contact
Lauren Post
Media Relations Coordinator
(202) 416-4040
lpost@cgdev.org
Washington, D.C. (March 4, 2014): Lawrence Summers, former US Treasury secretary and president of Harvard, will become the board chair of the Center for Global Development (CGD), succeeding founding board chair Edward Scott Jr., CGD president Nancy Birdsall announced today.
Scott, a successful entrepreneur and former senior US government official who founded CGD in 2001, informed the board recently of his decision to step down and proposed Summers as his successor. The board voted unanimously to approve the nomination, Birdsall said. CGD is a Washington-based think tank that works to reduce global poverty and inequality.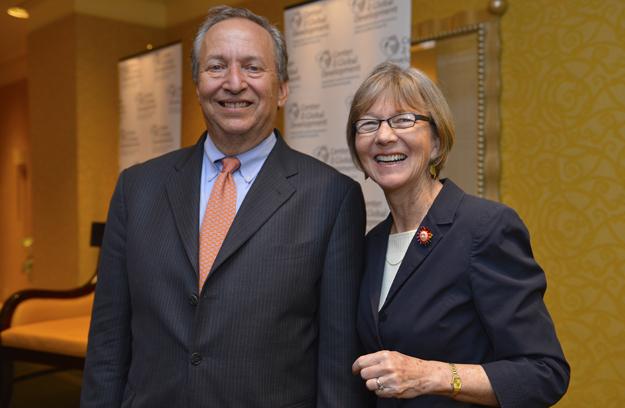 "Larry was a member of CGD's original board. He is one of three former secretaries of the US Treasury who have served on our board. Over the last 12 years, he has been helpful to Nancy and to the Center in many ways," Scott said in his letter to the CGD board of directors, a 27-member body that includes representatives from the private sector and former senior US government officials from both parties.
"He has had a commitment to the development agenda throughout his career. His vita requires no recounting, but it clearly will be extraordinarily helpful to CGD to go forward with a board chair who has the global access and intellectual respect that Larry Summers commands."
Birdsall said: "I am delighted that Larry has agreed to serve as our board chair. I have admired him since we first met 25 years ago when he was chief economist at the World Bank. His commitment to intellectual rigor and to applying research findings to make the world a better place are a perfect fit with CGD's mission."
Summers said: "I am very pleased to have been asked to succeed Ed Scott, the founding chair of the Center for Global Development, as chair of CGD's board. With almost half of the world—some 3 billion people—living on less than $3.00 a day, ensuring that the benefits of technology and global integration are widely shared is one of the central challenges of the 21st century."
He added: "Under Nancy Birdsall's leadership CGD has repeatedly demonstrated that rigorous research and active engagement with the policy community can make a real difference in the lives of the world's poorest people. I look forward to working with the board, management, and staff of CGD to help further extend the Center's influence."
Since its founding in 2001, CGD has earned a reputation as one of the world's leading think tanks working to reduce global poverty and inequality. Unlike most development organizations, the Center focuses specifically on improving the policies and practices of the rich and the powerful—rich nations, as well as in the emerging powers, international institutions, and global corporations—that have significant impacts on poor people around the world.
David Callahan, the founder of the digital media site Inside Philanthropy, recently identified Scott as "the most effective global giver to yet emerge from Silicon Valley" because of his role providing the start-up capital for CGD. Scott, he wrote, "understands the importance of policy and advocacy better than most funders, particularly in the tech world, where government action is often seen as yesterday's solution."
"What counts most is Scott's leadership in getting the Center for Global Development set up, because a number of major foundations soon followed him in backing the organization," Callahan wrote. "In 2003, a bevy of heavy hitters got behind the Center in a big way: Gates, MacArthur, Rockefeller, OSI, and Hewlett."
Susan Levine, executive committee member of the CGD board and the former board chair of the International Center for Research on Women (ICRW), said of Summers' selection: "Larry Summers has been a leader in addressing inequality in the world; his early research on girls' education has been instrumental in influencing developing countries' policies on the treatment of women and girls.  I am thrilled that he is going to chair the board of CGD, where his insights on development will be so appreciated."
Robert Mosbacher Jr., former president and CEO of the Overseas Private Investment Corporation (OPIC), said: "For someone of Larry Summers' experience and background to commit to serve as chair of the board of CGD is an extraordinary commentary on the visionary leadership of Ed Scott, CGD's founding chair, and the impact and influence on public policy of CGD and its president, Nancy Birdsall."
Mark Malloch Brown, a CGD board member and the former administrator of the United Nations Development Program (UNDP), said: "Larry has applied to development economics the same analytical rigor and challenge to orthodoxy that he has to other areas of the discipline. He will be the questioning, demanding but committed champion and chairman that makes an organization thrive."
Henrietta Fore, former administrator of the United States Agency for International Development (USAID), said: "As founding chair of CGD, Ed Scott has consistently pushed for creative solutions to the challenges of development, including new public-private partnerships. Larry Summers' chairmanship will be a strong voice for this important work."
Tim Geithner, former US Treasury secretary and a former member of CGD's board, said: "Larry Summers is a terrific creative force on development issues. He is inspiring about the cause, but demanding about the means."
Ngozi Okonjo Iweala, finance minister of Nigeria and current CGD board member, said: "Larry's seminal work on the economic and developmental value of educating girls and women continues to provide an invaluable policy platform today for redressing the situation of girls and women in Africa and beyond."
The change in CGD board leadership will become effective on May 1, 2014. Scott and Summers will speak at a lunchtime event at CGD's Washington, DC, headquarters on Friday, April 25. Media who wish to attend should contact Lauren Post (LPost@CGDev.org) to request an invitation.
###
The Center for Global Development: CGD works to reduce global poverty and inequality through rigorous research and active engagement with the policy community to make the world a more prosperous, just, and safe place for all people. An independent, nonpartisan, and nonprofit think tank, the Center combines world-class scholarly research with policy analysis and innovative outreach and communications to turn ideas into action. The Center has about 60 full-time staff in Washington and a smaller presence in Europe run from an office in London.