A message from CGD's President
CGD's mission of reducing global poverty and inequity is carried out through new ideas and actionable policy proposals to improve lives around the world. The spirit of CGD's mission requires us to apply the same critical lens to our own institution, evaluating our shared norms and policies to ensure we are building a more inclusive organization. We do this because it is part of our core values, but we also believe it strengthens our research and relevance to have a more diverse set of lived experiences contributing to our important work. In 2018, CGD set out an agenda of activities around diversity, equity, and inclusion after an assessment of our organizational culture and practices. These included a gender and race pay gap analysis, a "no manels" pledge for public events, re-designed staff training around inclusive leadership/implicit bias/bystander training, launching a peer support program, adding an institutional ombudsperson, and introducing a new Summer Delegates mentorship/internship program aimed at expanding our networks to new, more diverse groups.
After the killing of George Floyd and the momentum behind Black Lives Matter and other social justice movements, CGD renewed our commitment to building a more inclusive and just institution by re-examining policies, practices, and norms around DEI both internally and externally, including looking for ways we can remove barriers to full access, participation, and equity in everything we do. This led to the creation of a staff DEI Committee, with a direct liaison to the executive team. The committee, with a mandate to identify useful opportunities for CGD to be more inclusive, presented a plan organized into several key workstreams, each with its own list of actions. The workstreams include: Recruiting and Onboarding, Levelling the Playing Field, Learning and Development, and Organizational Culture. Each area of focus has a set of staff leaders from across the organization tasked with leading specific actions CGD can achieve in the next 12 months. This ambitious plan was adopted in late 2020 by the leadership of CGD and began in January 2021.
While we are proud of CGD's work so far, we recognize it is not nearly enough and there is still so much more to be done. We will share more about our progress as the work evolves, and we hope you will take a moment to read about our plans, experiences, and reflections along the way.
- Masood Ahmed
Our DEI Initiative
Our work around diversity and inclusion is wide-reaching, focused both internally and externally, with shared stewardship from across the organization. Some of our ongoing activities include:
The establishment of a graduate-student practicum program with Morgan State University, a historically Black university near Baltimore
Launching a new, transparent compensation and promotion framework with equity at its core
Examining both supply and demand-side issues related to recruitment and building diverse candidate pools
Investment in better data collection to establish a baseline for tracking future progress
New, enhanced performance management platform designed to build a 360-degree culture of feedback, openness, and communication
Renewed focus on our program of institutional affiliations with expert scholars to reflect the diversity of opinion and background that we aspire to ourselves, both because this matters intrinsically and because it's important to amplify voices and opinions that lack the kind of platform we provide.
An enhanced recruitment and onboarding experience designed to prepare our staff to succeed both at CGD and beyond.
Explore some of CGD's diversity-related research and commentary
---
Our Data
Please note: CGD's DEI survey includes the results only of staff who have taken the annual survey.
Where are CGD staff located?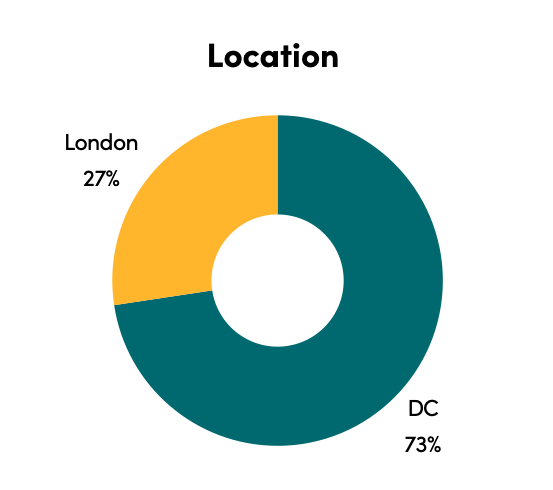 Diversity, Equity, and Inclusion by Office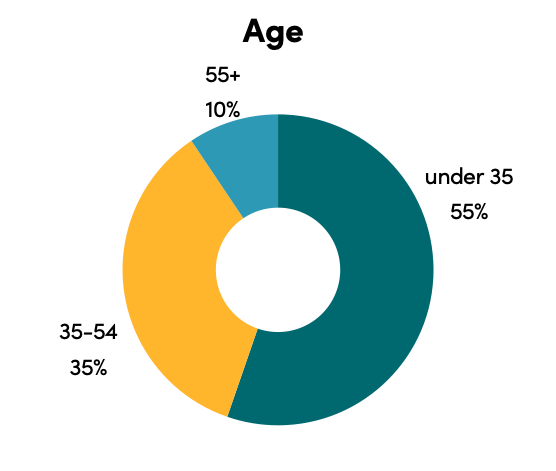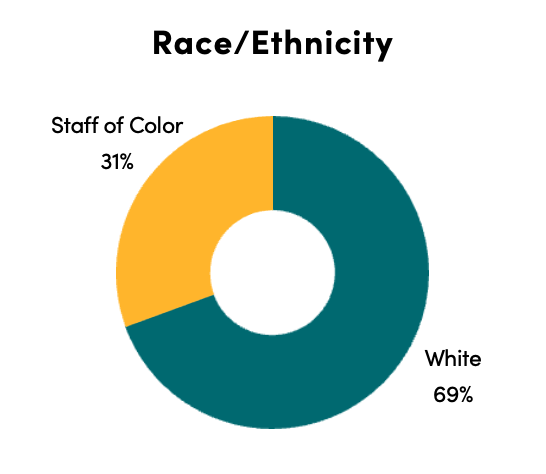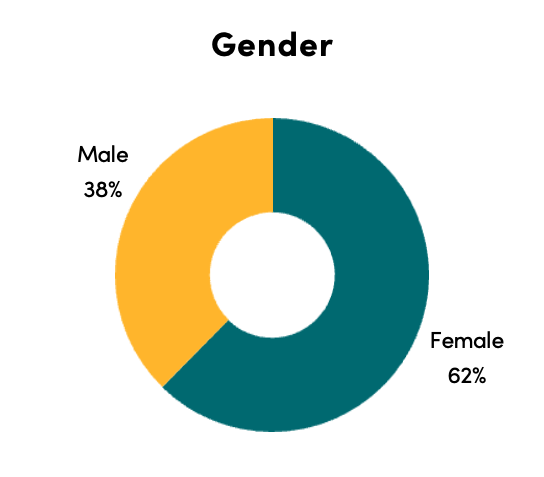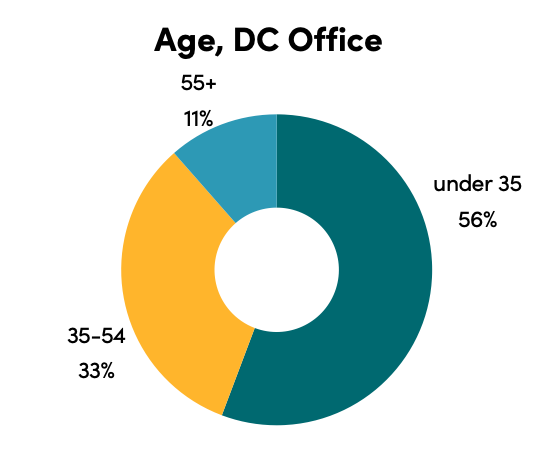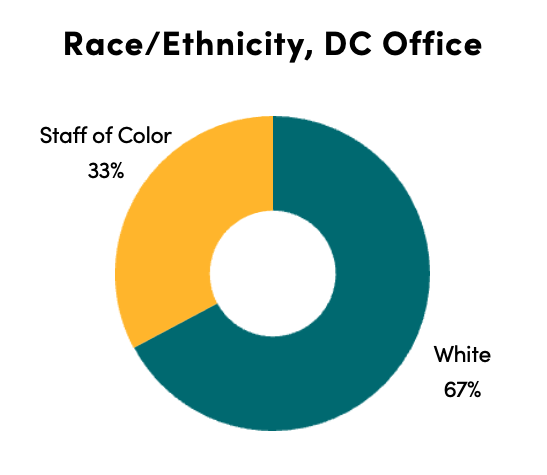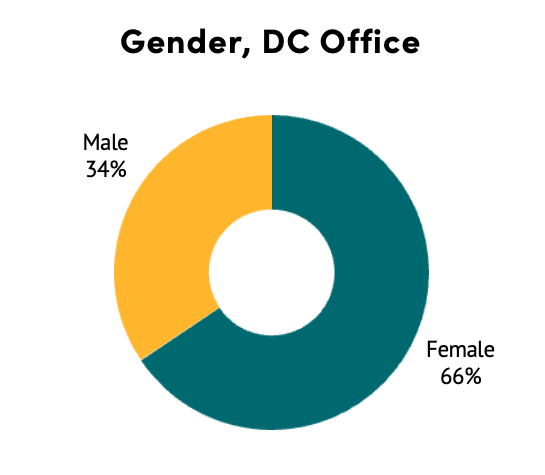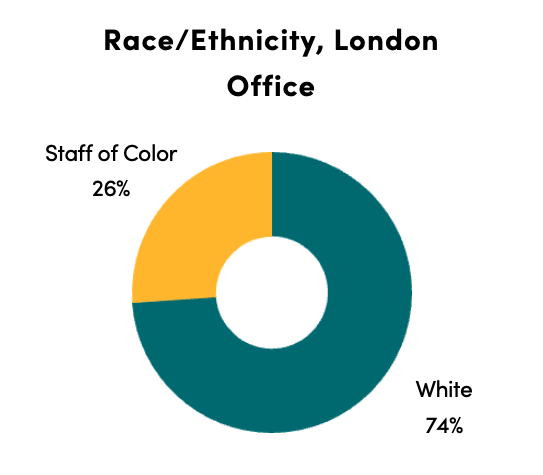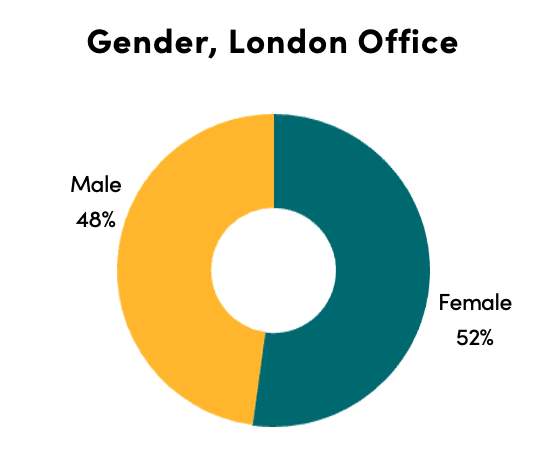 Staff of Color Breakdown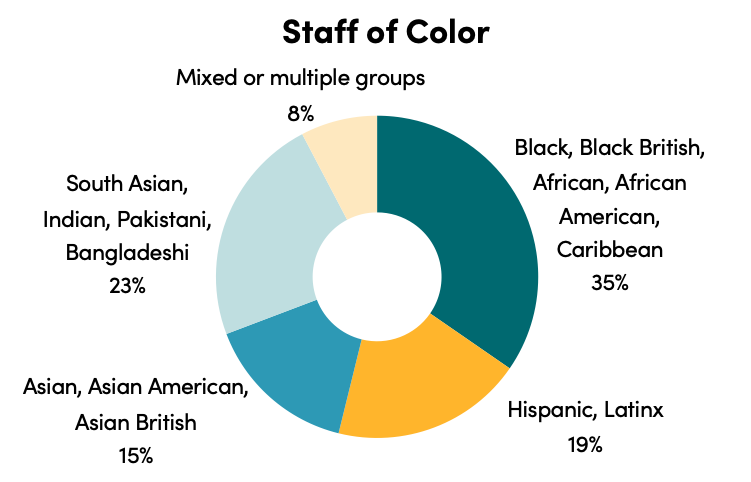 Diversity of Staff at Different Levels of Seniority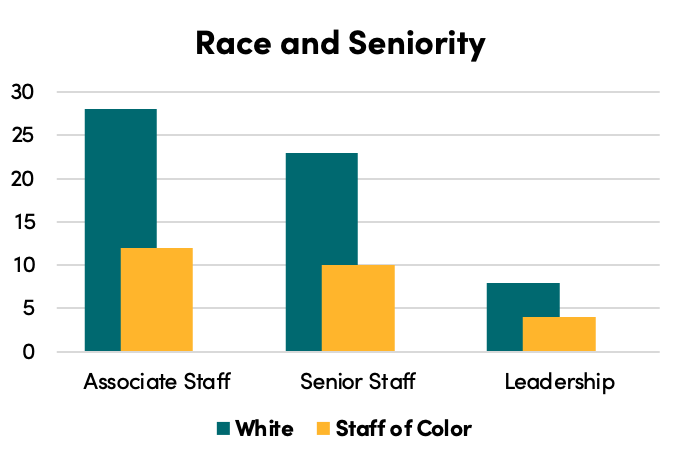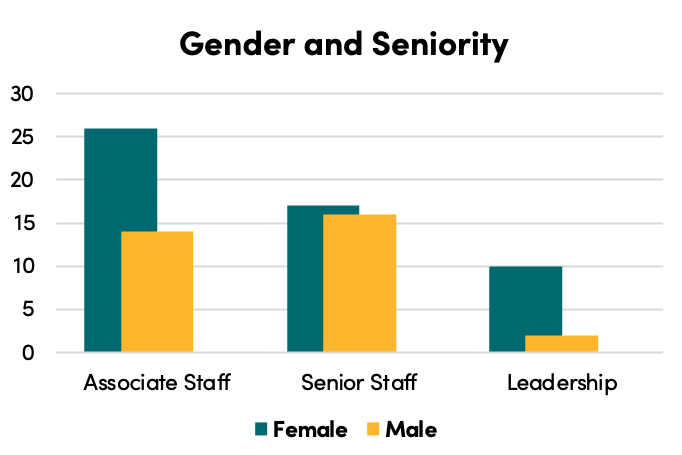 Race/Ethnicity and Gender at CGD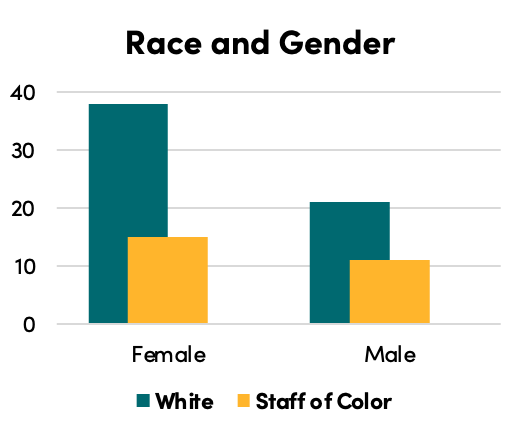 LGBTQ+ Status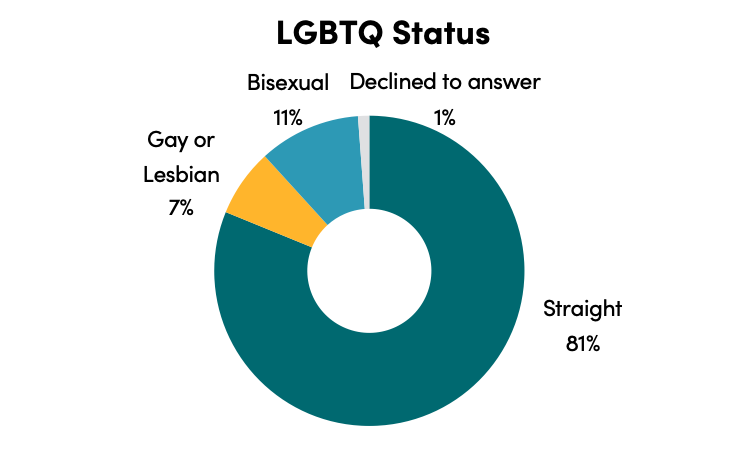 "Other" was listed as a response option, but was not selected.
Disability Status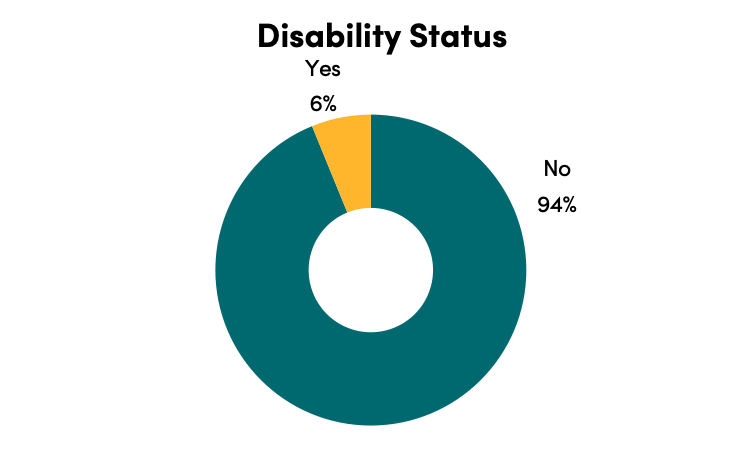 "Other" was listed as a response option, but was not selected.
Care Responsibilities