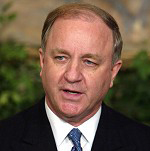 Randall Tobias, the first U.S. director of foreign assistance, had back-to-back hearings last week with the House Foreign Affairs Committee and the House Appropriations Subcommittee on Foreign Operations. The hearings were the first opportunity for the new Democratic-controlled Congress to assess the progress of the Bush administration's year-old foreign aid reform effort and for Ambassador Tobias to explain the administration's plans. Unfortunately, the sparring merely scratched the surface of the real foreign aid debate.
Tom Lantos (D-CA), chairman of the House Foreign Affairs Committee, opened with a broadside:
Ambassador Randall Tobias, as the first-ever director of foreign assistance, you have been on the job for over a year. Your task was to reshape -- carefully, delicately -- and to bring order to our country's tangled thicket of assistance efforts overseas. Instead, it appears to many members of this committee, you took to it with a weed-whacker. And the results are predictably unfortunate…
…despite endless prodding for further information as the reform process got under way, Congress has been provided with nothing more than a cursory overview of the fundamental foreign aid restructuring process -- mere notification of steps already taken, decisions already made.
We are not a potted plant watching the administration function. We are part of the decision-making process.
Ambassador Tobias has had a tough job, filling in the crucial details on the "transformational diplomacy" agenda set forth by his boss, Secretary of State Condoleezza Rice this time last year. Along the way Ambassador Tobias launched a monumental and long-overdue effort to create a single budget reflecting USAID and State Department foreign aid spending. Such a budget is a crucial first step towards identifying appropriate U.S. priorities in the "tangled thicket" of foreign assistance.
But outside of Rep. Lantos's vitriol, there was little indication that members of the committee even knew that reform was underway. Instead, questions focused mostly on traditional funding levels and single-issue topics, plus a few general questions about whether or not the U.S. should still be operating under the 1961 Foreign Assistance Act, the relationship between development and foreign policy objectives, and what was being done to ensure recipient country input into U.S. aid design. Important topics, to be sure, but to my mind they miss many of the essential questions of the ongoing foreign aid reform.
The afternoon session with the House Appropriations Subcommittee on Foreign Operations was led by a more genial Nita Lowey (D-NY) who applauded the transformational diplomacy agenda and its attempt to rationalize and focus U.S. foreign aid efforts. But she also voiced several concerns including a perceived top-down approach, shifts in funding away from long-term development programming, and loss of technical capacity at USAID. Rep. Frank Wolf (R-VA) argued for a fundamental re-analysis of U.S. foreign aid (and said the HELP Commission, sponsored by Wolf himself, wasn't helping us get there) but failed to ask how the reforms led by Tobias might inform such an analysis. Rep. Jesse Jackson, Jr. (D-IL) cited CGD analysis indicating that the top recipients of U.S. assistance are mostly political allies or recipients of dedicated HIV/AIDS funding. Jackson asked about the U.S. strategy for weak and fragile states and questioned whether the administration's signature initiatives--efforts to address HIV/AIDS and malaria, and the Millennium Challenge Account--contribute to the U.S. goal of long-term growth and poverty reduction.
To these questions, Tobias provided answers that were much like those he and his staff have provided in seminars and discussions around Washington, D.C. over the past few weeks. They are reasonable and accurate in accounting the retrospective process. But they miss the opportunity to draw lessons and point to what these might mean for the future of U.S. foreign aid. Are we satisfied with where we are? Did we learn anything from this massive attempt to reorganize U.S. foreign assistance? What more should be done to make our development assistance more effective at reducing poverty and transforming countries? Sadly, these questions were unasked and unanswered.
Since the Tobias hearings, the clocks have sprung forward and spring is in the air in Washington, D.C. Perhaps our officials (elected and not) will take a cue from Mother Nature and, looking beyond potted plants and weed-whackers, actually sprout some new rhetorical buds that could grow into a truly constructive conversation about U.S. global development priorities.
Keep an eye on Capitol Hill, where Millennium Challenge Corporation CEO John Danilovich will be taking his turn with the House Appropriations Subcommittee on Foreign Operations on Tuesday, March 13. Just in case our elected officials are unsure what to ask, my colleague Sheila Herrling has drafted some questions that she would like to ask Danilovich about the MCA and broader U.S. foreign aid reforms.
Disclaimer
CGD blog posts reflect the views of the authors, drawing on prior research and experience in their areas of expertise. CGD is a nonpartisan, independent organization and does not take institutional positions.