Last week, I showed how the US has fallen far behind its peers in terms of negotiating bilateral investment treaties (BITs) in Sub-Saharan Africa. These agreements encourage investment by providing foreign investors with core protections against political risk and uncertain business environments. While BIT coverage rates are shockingly low in Africa, it isn't the only region that has received the cold shoulder. US BITs are largely absent in South Asia and East Asia as well. This highlights the clear need for the Obama Administration to boost its investment promotion efforts across multiple developing regions during its final three years. As Canada has shown, a lot can be accomplished in three short years. 
Here's a bit of history on US BITs. After the Berlin Wall fell, the HW Bush and Clinton administrations rapidly negotiated a legion of investment treaties with former Soviet Union and satellite states. These agreements were closely linked with broader economic liberalization efforts, and a strategic US push into the region. By President Clinton's second term, the US had signed 20 BITs with these countries (although the agreements with Belarus, Russia, and Uzbekistan were never ratified). The US pursued a similar strategy in the Middle East & North Africa along with Latin America during the 1990s, which was followed by a burst of free trade agreements (which cover investment) under the George W. Bush administration. There are still a few gaps in country coverage, such as Brazil, Venezuela, Algeria, Iraq, and Lebanon. However, previous US administrations were very successful at negotiating investment promotion treaties in these three regions.
Number of US Investment Agreements Signed by Administration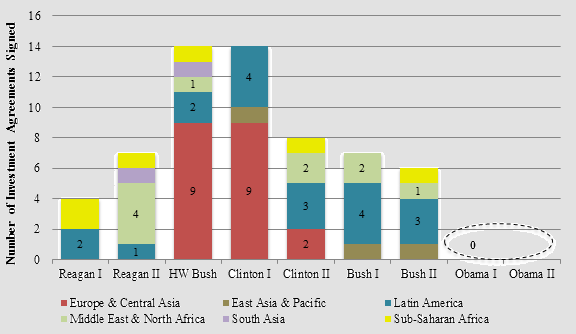 Source: USTR, UNCTAD, and author's calculations
The picture is starkly different in the rest of the world. Today, the US has only 2 investment treaties with South Asian nations (Bangladesh and Sri Lanka) covering roughly 8 percent of regional GDP. In East Asia, the US has three agreements (Korea, Mongolia, and Singapore), which cover about 12 percent of regional GDP. Granted, the regional GDP coverage rates are largely driven by the absence of BITs with China and India. But, there are many other major Asian economies without a US investment agreement, such as Indonesia, Malaysia, Pakistan, Philippines, Thailand, and Vietnam. If the Trans-Pacific Partnership negotiations are ultimately successful, then US BIT coverage would extend to Malaysia and Vietnam.
US BIT Coverage Rates, by Developing Region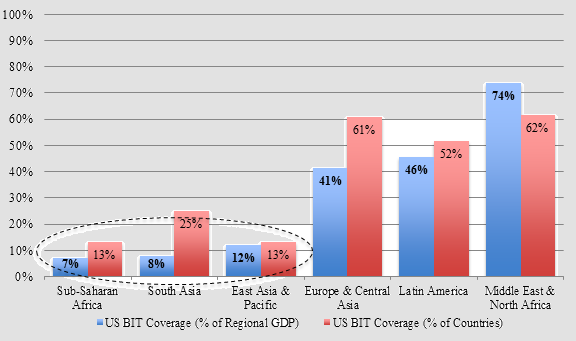 Source: UNCTAD, IMF, and author's calculations
All of this suggests that its time for a big Obama administration push on promoting investment. While it should be a key development policy pillar, it has barely even received lip service to date. However, with three years left, there should be plenty of time to change that.
Disclaimer
CGD blog posts reflect the views of the authors, drawing on prior research and experience in their areas of expertise. CGD is a nonpartisan, independent organization and does not take institutional positions.