November 10, 2022
Recommended
Child marriage remains a major concern in Bangladesh. More than half of women aged 20-24 were married before their 18th birthday (figure 1). Even though early marriage rates have declined in the last decade, the rate of decline has been discouraging. Early marriage may have even started to increase again during the long Covid-19 school closures. There is some evidence on what does (and what doesn't ) work  to reduce child marriage, but it's clear that more interventions and more research are needed to steepen the decline.
In this blog we describe the context of early marriage in Bangladesh and discuss a new intervention that will be implemented by BRAC and evaluated by researchers from the BRAC Institute of Growth and Development (BIGD), in partnership with CGD. The intervention will aim to address parents' fears of their daughters eloping or becoming pregnant, which is a key driver of early marriage. By working with parents and their daughters, we hope to build more trust between the generations to help assuage these fears. In turn, we hope this gives them more confidence to keep their daughters unmarried and in school for longer.
Figure 1. Percentage of women age 20-24 married before their 18th birthday
Source: Authors' analysis using DHS reports and MICS
Child marriage in Bangladesh is rooted in poverty and societal norms
The high prevalence of child marriages poses a significant barrier to achieving gender parity in education in Bangladesh. Marriage changes a girl's life dramatically: she switches from being a school girl to being a wife, mother and housekeeper.
Poverty and limited work opportunities for women can influence the timing of marriage. Early marriage can be an economic strategy for alleviating financial burdens associated with the care and education of daughters. And marriage transactions, either from or to the bride, can influence marriage timing and indirectly affect the decisions about schooling. Community norms in favour of child marriage typically reflect parents' normative values, where girls are excluded from asserting their preferences over marital decisions and choices. The desire to safeguard their family's reputation and daughters from potential societal disapproval may motivate parents to instigate early marriage. Often the start of menstruation influences marriage, with parents marrying their daughters to preserve their "sexual purity".
Qualitative research with parents in the BRAC Ultra-Poor Graduation Program helped us understand more about the context of early marriage
In July, we (researchers from BIGD) visited parents in BRAC's Ultra-Poor Graduation Program (UPGP) to explore why girls leave school early. Our initial hypothesis was that gendered aspirations, expectations, and investments would be the main drivers of dropout. But we returned home with a different question on our minds: is the lack of trust between parents and their adolescent daughters a key driver of early marriage and school dropout?
We found a strong resolve to graduate out of poverty. Respondents recognized that education can facilitate upward social mobility. But, despite having high aspirations for their children's education, and viewing it as core to better life prospects, parents continue to marry off their adolescent daughters in their early or late teenage years. And previous cohorts display similar tendencies. Among UPGP households with married women, 86 percent  had at least one woman who was married before the age of 18 (figure 2).
Figure 2. Proportion of married women in UPGP households by year of birth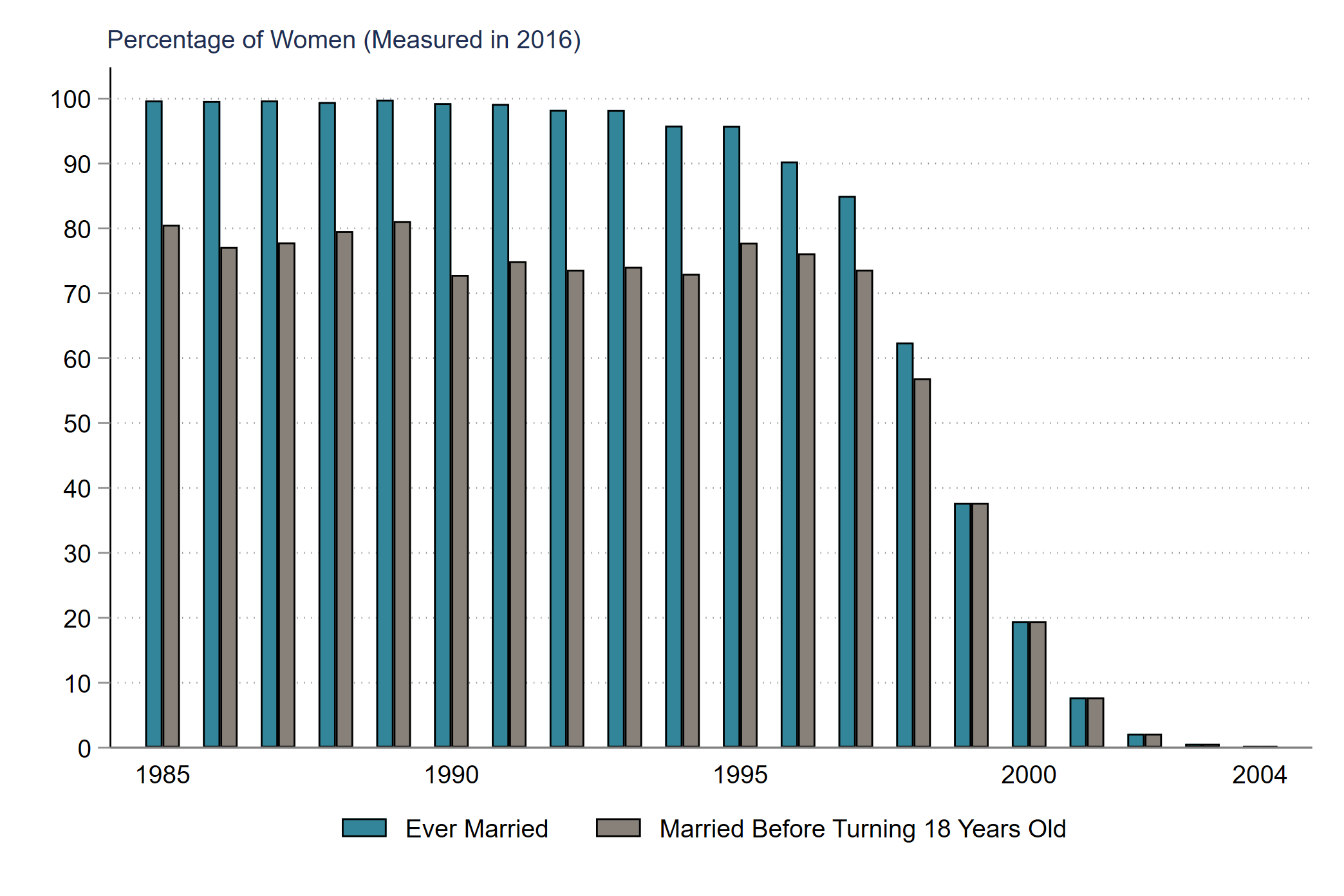 Source: Authors' analysis of UPGP survey, 2016
Our conversations also revealed that parents dread the possibility of their adolescent daughters socialising with boys and—in extreme cases—eloping with a boyfriend. This fear was heightened among parents of girls living in neighbourhoods where elopements had previously occurred. And it seems to be a key driver of early marriage: protect the girls' and families' reputations by marrying them early.
What has (and has not) worked to reduce child marriage in Bangladesh?
To consider what new interventions might work to reduce child marriage, we reviewed what has been tried previously in Bangladesh. Cash and in-kind transfers, contingent on girls' school attendance and progress, are effective at reducing child marriage rates, but questions remain concerning their long-term viability once the transfers cease. The visible promise of employment prospects for girls in early adulthood seems to play a role in altering pro-early marriage attitudes: the effect of access to the garment industry in Bangladesh had a greater impact on delaying marriage and childbearing and enhancing girls' education than the government's secondary school stipend program. Teaching girls about their gender rights and equipping them with skills for better livelihoods has strong positive impacts on reducing child brides, demonstrating that enhancing girls' own human capital can be crucial for delaying early marriages.
But in some circumstances, interventions have proven counterproductive—for example alerting fathers and family elders about the child marriage act in Bangladesh led to a rise in early marriage rates among adolescent girls. This may have been down to a backlash in response to a law that violates existing norms and practices.
What next? A theory of change for a new intervention
Evidence on longer term outcomes for UPGP beneficiaries shows that an increase in income and wealth—and high educational aspirations for their children—doesn't necessarily translate to more schooling. Our findings suggest that mistrust can lead parents to marry their daughters early, effectively ending their schooling aspirations. Our hope is that by providing counselling to both parents and adolescents we can build trust and help bridge the generational divide. A more trusting parent-daughter relationship should then lead to a decrease in the rate of early marriage and more schooling for girls.
The proposed intervention will be delivered for three months, in 12 weekly group-based sessions between parents and daughters. The content aims to improve parent-adolescent communication and trust; the safe use—risks and benefits—of technology; and information on returns to education for girls. Experiential exercises and role play will be used to support parents in identifying and regulating their emotional responses to their daughters and to respond sensitively to behavior they perceive as challenging, while maintaining clear expectations and limits.
We plan to randomly assign UPG groups to the intervention. The treatment group will receive this additional intervention, while the control group will receive the standard UPG intervention. We'll then be able to measure the difference between the families in UPG groups who received the additional intervention and those who did not.
There are a great many experts in Bangladesh and beyond who study and run interventions to reduce child marriage and improve schooling for girls. As we embark on this new experiment we're eager to hear from you. Do you have any suggestions or comments on the intervention? Do you think it will "work"? Please get in touch and help us advance gender equality in and through education for girls.
With thanks to Dongyi Wu for research assistance.
Disclaimer
CGD blog posts reflect the views of the authors, drawing on prior research and experience in their areas of expertise. CGD is a nonpartisan, independent organization and does not take institutional positions.