This blog is part of a body of research that examines the current state of play on COVID-19 treatments. These pieces provide a deep dive into key cross-cutting areas—demand, voluntary licensing for generic supply, and deployment—and offer policy actions for 2023 and beyond. See here for more from CGD on COVID-19 treatments.
In December 2021, two oral treatments for COVID-19—a nirmatrelvir/ritonavir combination, developed by Pfizer and sold under the name Paxlovid, and molnupiravir, developed by Merck and sold under the name Lagevrio—received emergency use authorization from the US Food and Drug Administration (FDA), following promising clinical trial results. One year later, access to these oral antiviral treatments remains highly concentrated in wealthier countries and demand in lower-income countries is extremely low.
To expand global access, Pfizer and Merck signed voluntary licensing agreements that grant permission to select manufacturers to produce generic oral antivirals. But these products are not expected to be available until 2023. And even when they do become available, insufficient deployment infrastructure in many places may hamper delivery to patients. 
As COVID-19 evolves into an endemic disease, and health spending and aid budgets are squeezed by macroeconomic and fiscal challenges in the coming years, we need a more realistic strategy. Governments and donor partners should stop making bold announcements backed by unrealistic plans to scale access to oral antivirals across lower-income countries. Instead, the current context signals the need for a more strategic approach with targeted short- and long-term goals.
In the nearer-term, global, regional, and national efforts should seek to stabilize demand, speed up production and registration of quality-assured generic antiviral treatments, and lay the infrastructure for delivery as an important insurance policy if—or when—a dangerous new variant emerges, especially in settings where vaccination coverage is low. Generating adequate evidence to determine the costs and benefits of providing oral antivirals in lower-income countries, and inform how these treatments fit into ongoing COVID-19 response efforts must be a priority. In the longer-term, the global community must learn from this experience to accelerate access to oral antivirals and other medical countermeasures in future disease outbreaks. 
Four new CGD pieces, released today, examine the current state of play on COVID-19 oral antivirals. Our analyses provide a deep-dive in key cross-cutting areas—demand, voluntary licensing deals for generic supply, and deployment—and offer policy actions for 2023 and beyond, summarized in the below table. You can find our full body of work on oral antivirals for treatment of COVID-19 here.
Table 1. Key challenges and recommendations to advance rapid and equitable access to COVID-19 treatments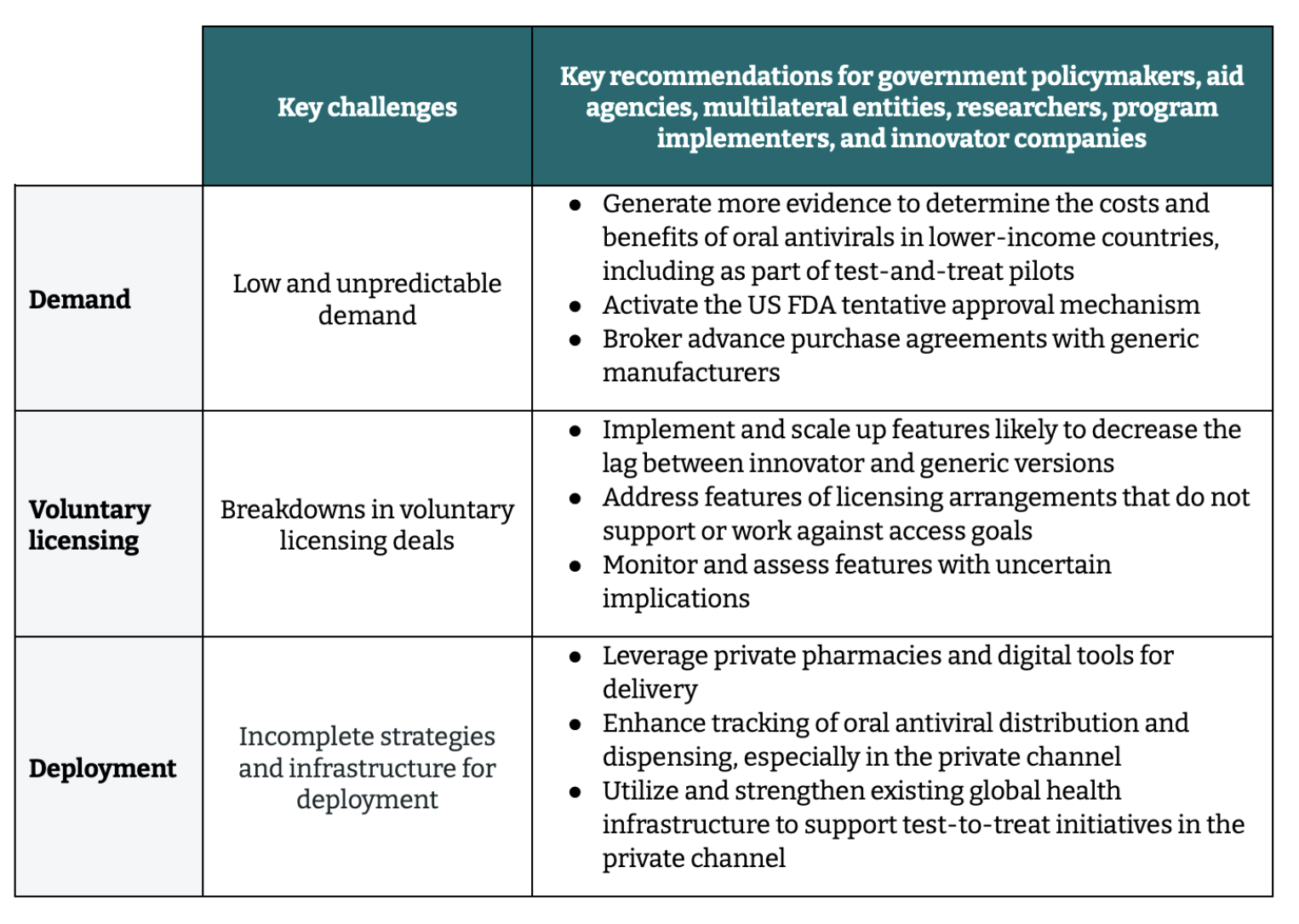 Key challenges and priority actions for the COVID-19 oral antiviral landscape
1. Low and unpredictable demand
Five interlinked factors are at the root of low demand for oral antiviral treatments. First, there is limited evidence on the clinical effectiveness and value-for-money of these treatments in lower-income settings, which is critical for informing government (and donor) priorities. Second, regulatory bottlenecks are delaying the availability of generic products, an essential prerequisite for effective demand to materialize. Third, in the absence of lower-cost, quality-assured generics, innovator products remain unaffordable in most lower-income contexts. Fourth, limited visibility of current and future demand weakens incentives for generic manufacturers. Finally, test-and-treat programs to deliver treatments to patients are not in place, due in large part to insufficient resources.
Priority actions to address demand-side issues:
Generate more and better evidence to determine the costs and benefits of different oral antivirals in lower-income countries, including as part of ongoing test-and-treat pilots. Access to robust clinical and economic evidence is needed to guide decisions on how to allocate scarce health resources and balance priorities with other COVID-19 response efforts and across other routine health interventions. Partners should prioritize completing the ongoing pilots to set up the infrastructure for test-and-treat programs in select countries, alongside efforts to generate additional evidence to determine the costs and benefits associated with oral antivirals in lower-income countries.

To fill this important gap, the Africa Centres for Disease Control and Prevention, in collaboration with CGD, is undertaking a rapid assessment of the cost-effectiveness of molnupiravir and nirmatrelvir/ritonavir compared to the current standard of care in three African countries (stay tuned for more updates next year). A CGD blog published today examines factors that may impact the efficacy, effectiveness, cost and cost-effectiveness of COVID-19 oral antivirals in Africa.

Read the blog

Activate the US FDA tentative approval mechanism. Leveraging this additional pathway can help to expand regulatory capacity and speed approval of generic products.

Broker advance purchase agreements with generic manufacturers. Stabilizing demand and building a modestly sized regional stockpile for rapid deployment is important in the event a future variant emerges. Such commitments could also help meet the minimum annual volume requirements in generic price agreements and unlock more favourable prices for low- and middle-income country (LMIC) markets.
2. Breakdowns in voluntary licensing deals 
Voluntary licensing agreements for nirmatrelvir/ritonavir and molnupiravir were signed in late 2021. However, innovator products are the only versions on the market to date. This delay is explained by key design features in the agreements reached between Pfizer and Merck and the Medicines Patent Pool—the standard channel for issuing voluntary licenses for COVID-19 treatments. Features such as exclusion of upper-middle income countries, overreliance on limited regulatory pathways, and restrictions on generic research and development may delay or undermine the availability of treatments in LMICs. Further, the unprecedentedly high number of licenses issued—and the lack of regulatory or voluntary licensing experience among licensees—creates uncertainty in the timeline for availability. 
These features have immediate implications for the COVID-19 response and provide lessons for how voluntary licensing should evolve to support rapid access to treatments during future health emergencies.
Priority actions to address issues with voluntary licensing agreements going forward include:
Implement and scale-up features likely to decrease the lag between innovator and generic versions. Innovators should develop global access plans, including an approach to voluntary licensing, for medical countermeasures to facilitate a rapid global rollout for emergency health products.

Address features of licensing arrangements that do not support or work against access goals. Current and future licensing agreements should include all upper-middle income countries, where innovators are not likely to sell their products. Agreements should also leverage additional regulatory pathways, including regulatory authorities deemed "functional" by the World Health Organization.

Monitor and assess features with uncertain implications. Decisions to protect innovator supply rights, issue an unprecedentedly high number of licensees, and work with less experienced manufacturers, could create strong market conditions, but must be monitored and assessed to better understand related risks and/or benefits.
3. Incomplete strategies and infrastructure for deployment
Several deployment-related challenges also hinder the ability to get treatments to patients in lower-income countries. Concerns about drug-drug interactions between oral antivirals and other medications, overreliance on public sector primary health centers with limited use of private pharmacies, and overcrowded outpatient services hamper deployment. 
Priority actions to address these issues, provide ease of access to COVID-19 oral antivirals, and improve deployment architecture for medical countermeasures going forward include:
Leverage private pharmacies and digital tools for delivery. Test-to-treat initiatives can be built on top of existing telemedicine and digital health systems (e.g., retail pharmacy dispensing and/or direct-to-consumer distribution) to expand access to COVID-19 treatments. 
Enhance tracking of oral antiviral distribution and dispensing, especially in the private channel. More and better data will help integrate the private channel into broader medical countermeasure deployment efforts, including test-and-treat initiatives.
Utilize and strengthen existing global health infrastructure to support test-to-treat initiatives in the private channel. Existing infrastructure—such as Global Fund resourcing and procurement systems, the President's Emergency Plan for AIDS Relief, and the President's Malaria Initiative—should be leveraged to lessen the burden on national governments and health systems and expand access to oral antivirals more rapidly.
You can read the full set of new research for more on our findings and recommendations. And stay tuned for more from CGD on COVID-19 treatments and facilitating rapid, equitable access to critical countermeasures in future outbreaks.
Disclaimer
CGD blog posts reflect the views of the authors, drawing on prior research and experience in their areas of expertise. CGD is a nonpartisan, independent organization and does not take institutional positions.