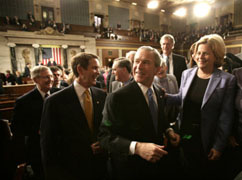 Dozens of people packed a previously undisclosed location (The Diner in Adams Morgan) last night for our third annual State of the Union BINGO game. Joining CGD staff was an avowedly wonkish crowd that included people from such organizations as the U.S. State Department, the Millennium Challenge Corp. (MCC), the Inter-American Development Bank, World Bank, returned Peace Corps volunteers, the Swedish Embassy, students from Johns Hopkins University-SAIS, and Washington Post columnist Nora Boustany (who writes Diplomatic Dispatches). As in the past, everybody in the crowd received a CGD State of the Union BINGO card (PDF) containing key words and phrases.
Howls of delight went up when, well into the speech, President Bush eventually mentioned HIV/AIDS, enabling several players to mark the HIV/AIDS square on their BINGO cards. But the president's discussion of the epidemic focused entirely on the U.S.. Absent was any mention of the Africa-focused President's Emergency Plan for HIV/AIDS (PEPFAR), announced with much fanfare in the 2003 State of the Union as "a work of mercy beyond all current international efforts" nor was there any mention of the MCC, the administration's slow-starting flagship foreign aid program. On the screen, Secretary of State Condoleeza Rice was prominent in the front row. But the president never said "diplomacy," a weird omission given Sec. Rice's recent push for "transformational diplomacy." China and India were mentioned only in passing, as up-and-coming competitors to the U.S. Africa, Asia, and Latin America were never mentioned at all.
Terrorism and its variations (terror, terrorist), freedom, and Iraq were mentioned repeatedly, until even the most wonkish in the crowd lost count. The BINGO winners were happy with their CGD coffee mugs, and everybody went home with a cool map poster showing the results of CGD's 2005 Commitment to Development Index. But the crowd grew somber as the speech wore on and broke up quickly when it finally ended. Few lingered to ponder why global development issues that are crucial to the future well-being of Americans--and regarded as pressing by much of the rest of the world--found no place in the 2006 State of the Union address by the president of the richest and most powerful nation on earth.
Disclaimer
CGD blog posts reflect the views of the authors, drawing on prior research and experience in their areas of expertise. CGD is a nonpartisan, independent organization and does not take institutional positions.