Update: Dr. Matshidiso Moeti was selected as the regional director for WHO Africa on November 5.
In November, the World Health Organization will select its next regional director for Africa. As we wrote in a previous blog, this position is not posted publicly and has no independent mechanism in place to recommend, interview, and evaluate the best qualified candidates.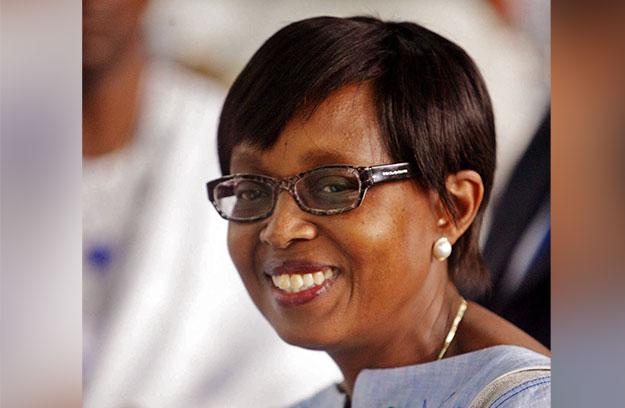 We invited each candidate to use the Center's platform to discuss his or her vision for the future of the WHO Regional Office for Africa (WHO AFRO), how he or she sees current challenges, and why he or she is best suited for the position. In this post, Dr. Matshidiso Moeti—currently the inter-country support coordinator for Eastern and Southern Africa at WHO AFRO—shares her views on current challenges and vision for the future of WHO AFRO.
Background
Originally from Botswana, Dr. Moeti has 35 years of experience in health, with over 20 of those in international health. She led the epidemiology unit at Botswana's ministry of health as well as the HIV/AIDS program. She then headed to UNICEF as a program officer for health and nutrition in Zambia and to UNAIDS as team leader for the Africa desk. In 1999, Dr. Moeti joined WHO AFRO as the regional advisor for women's and adolescent health. Within the regional office, Dr. Moeti has also held the positions of regional advisor for HIV/AIDS, WHO representative to Malawi, and director of the division of non-communicable diseases before becoming the deputy regional director, a position she held until March 2014.
Q: What are the biggest challenges in health and for WHO in the region?
"I think the main challenge for WHO in the region is the large number of countries that are supported [by the regional office] and the level of support that is needed," she said. "The disease burden is high, and the needs and demand for technical support are huge. Other regions have better capacity within countries."
Dr. Moeti sees the double burden of communicable and non-communicable disease as a major challenge. "Disease burden is high for communicable disease, and now there is an emerging high disease burden of non-communicable diseases," she said. "We need to support countries to tackle both as well as high rates of maternal and child deaths. The African region still has a window of opportunity to avert the looming epidemic of non-communicable diseases. We need to work within countries to intensify prevention through multi-sectoral action and policies."
"Third, financing for health is inadequate in the region. Our countries still depend heavily on international development assistance, but it's not distributed in an equitable way," Dr. Moeti said. "We have a high level of international funding, and some of it is not yet aligned to country health plans. Financing for health systems, including human resources and health information systems, are not sufficient in many of our countries." She brings up a role of WHO AFRO: "part of what we're trying to do is to help countries align the funding with national priorities."
Q: What are three things you might do to rebrand WHO AFRO?
WHO AFRO has recently received attention because of the Ebola outbreak in West Africa. "The outbreak is unusual, but the response has not been sufficient and perhaps could have been quicker," she said. "But this applies to WHO as well as the whole international community."
"What we will do is to strengthen our accountability system, from departments to individual staff members." Dr. Moeti hopes to "clearly show what we are achieving and ensure that we deliver on our plans." She would "strengthen evaluations, building on the existing institutional system, and supplement it with inspections and audits. She will also introduce a system of mutual accountability between staff and supervisors" and envisions a "more open, less hierarchical workplace with a culture of working together."
Additionally Dr. Moeti would "invest more in capacity and competence, especially at the country level." Leadership capability seems to be a core component: "WHO has reformed the process of appointing country representatives," she said. "People are assessed on technical and leadership competence. In general, there is a need to invest more in staff development in the region."
Dr. Moeti's plan for WHO AFRO goes beyond just three things. "One thing I would do is to sharpen and activate partnerships so we're working in a more coordinated way," she added. "Another area to work on is research and development for commodities that are important in our countries. The WHO has focused on program development, but we also need countries to be able to quickly translate new technologies into programs and services."
Q: What are your hopes for WHO AFRO moving forward?
"My hope is, through my leadership, to help the countries in this region progress towards universal health coverage—to help countries improve their health systems and financing, but also have more coherent policies. This is something that is very important to us. Going back to the Ebola tragedy, we have seen that it is tough to obtain resources, domestically and internationally, to achieve resilience and preparedness, even though it's something that could really help contain outbreaks."
In her closing comments, Dr. Moeti reemphasized diversifying aid and mutual accountability between recipient countries and international partners. With regard to the WHO, she said: "In this large region, we would like to diversify our sources of funding. I hope to show our funders that we can be accountable and show positive outcomes." Dr. Moeti hopes to engage "different partners and different thinkers, including the African Union and regional banks, and support countries to negotiate for regional priorities at global level to come up with a common regional voice on health in Africa."
Disclaimer
CGD blog posts reflect the views of the authors, drawing on prior research and experience in their areas of expertise. CGD is a nonpartisan, independent organization and does not take institutional positions.