December 13, 2018
Recommended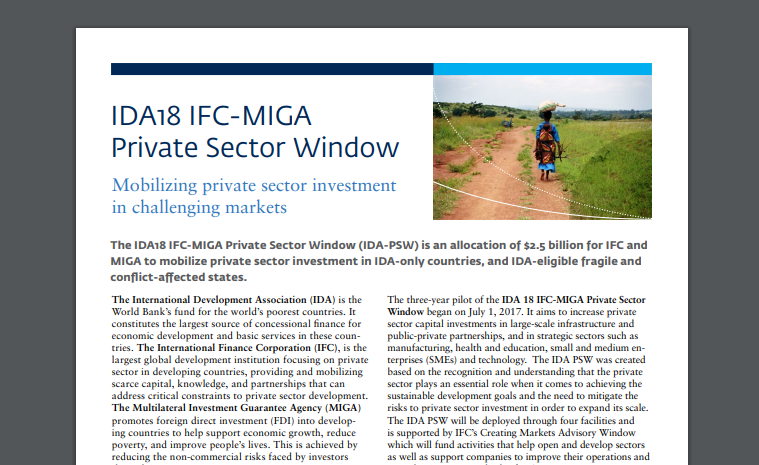 Blog Post
The Double Tragedy of the IDA Private Sector Window
October 15, 2018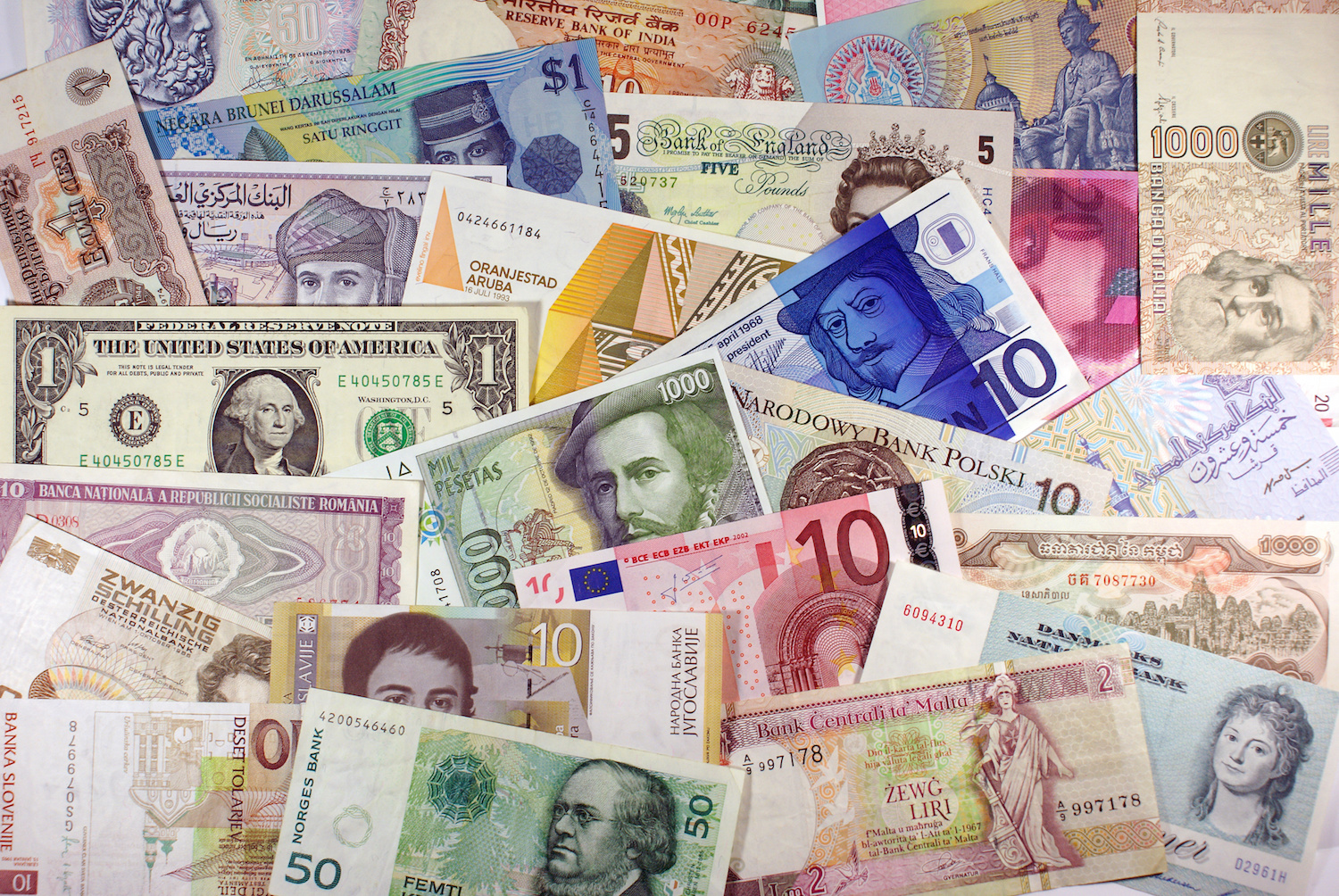 Blog Post
Redesigning the IDA Private Sector Window for Impact
November 05, 2018
A few weeks ago, the World Bank's soft-lending arm IDA held the mid-term review of its 18th round of funding. As background for the meeting, the World Bank produced a status update of the new IDA Private Sector Window (PSW) that I have blogged about before. The update provides valuable insight into how the $2.5 billion of PSW funding is being used at the halfway mark of its spending cycle but leaves some big unknowns.
The Knowns: Spending money is hard—especially in infrastructure
The first thing to note is that most of the money hasn't been used (yet). Total commitments, at $185 million, amount to a little over 7 percent of the PSW's resources. The IDA team has proposed potentially shifting $500 million out of the PSW as a result. In comparison, over the same period, traditional IDA support to private sector development more broadly totaled $11.5 billion. The operations of IFC (the World Bank's private sector investment arm) and MIGA (the bank's private sector insurance arm) in IDA countries totaled more than $3 billion in FY18. It turns out it isn't straightforward to rapidly ramp up projects using the standard IFC/MIGA approach in the poorest countries, even with subsidized cash.
Second, the projects are small, involving median PSW support of $9 million and a median total project size of $50 million. Compared to the 12 deals to date, IFC and MIGA would have to close 150 deals in the second half of the IDA round if average PSW support remains the same and they wanted to spend out the $2.5 billion.
As the Review notes "deal origination in PSW-eligible markets does not come easy." That is especially true in infrastructure. The Risk Mitigation Facility, designed to guarantee private investment in infrastructure, was originally allocated $1 billion of PSW cash. So far it has spent nothing. There are projects in the pipeline, but the challenges faced by the Risk Mitigation Facility are the primary reason that IDA may reallocate $500 million.
If anyone was still dreaming that there were a bunch of significant shovel-ready public-private infrastructure deals in low-income countries just waiting for slightly better financing terms, the PSW's experience should get them woke. The infrastructure investments under all PSW facilities combined to date cover a small fiber optic project in Myanmar ($19 million of PSW resources), a renewable energy project in the Pacific Islands ($5 million), and a mobile phone project in Sierra Leone ($31 million).
My colleague Gyude Moore has pointed out the significant challenges for blended finance to become a major tool of infrastructure support in low-income countries in particular, including "the questionable quality of domestic institutions, over-politicization of project selection, misaligned incentives of governments, and low levels of quality and predictability of the regulatory environment." I'd add poverty and small scale: especially in small, poor countries, there aren't enough large private consumers to provide the stable and high returns necessary to justify the risk of a big project in a tough market.
Given that infrastructure is such a considerable part of the trillions of dollars of investment needed to reach the SDGs and that blended finance was a key part of the billions-to-trillions aspirations of the multilateral development banks, the PSW's experience is one more reason to believe either the rhetoric or the approach needs to change.
The Unknowns: Who was subsidized and what will be the impact?
The PSW has had more success in other areas. Eight of the 12 projects are in financial markets, and there is a focus on SME lending, which accounts for more than a third of total PSW commitments. SME finance has long been an area where the IFC has used grant resources—its experience to date suggests that significant technical assistance is needed alongside finance in order to enable its client banks to expand SME lending. And there is a large market to reach: the IFC's own analysis suggest a $50 billion "finance gap" for micro and small enterprises in low-income countries, for example.
At the same time, we don't know the likely development impact of such projects: the World Bank Group's Independent Evaluation Group has suggested real weaknesses in efforts to quantify results, and there has been little effort to help remedy that with high-quality evaluations using approaches including randomization.
And we don't know if PSW support was needed to deliver these projects. "The question of whether a project can take place without PSW support does not always have a simple answer," suggests the mid-term report. Regarding scale and scope additionality, "these questions require judgement and are often influenced by the experience and institutional perspective of the project reviewers." It is worth noting that this problem is not inevitable. It arises because the traditional model of IFC and MIGA investment operations are simply not designed for the efficient use of subsidies to achieve development impact. There are other models that the World Bank uses which are far more fit for purpose in that regard, including output-based aid. For what it is worth, they've also worked better in infrastructure.
Finally, we don't know who got the most generous support. The Review provides detail on the overall estimated level of subsidy in the use of PSW resources so far—the figure comes to $42 million, or about 23 percent of committed resources. But you will search in vain for details of which of the 12 project sponsors were the recipients of this largesse, and how much they got. Which is odd: it is hardly as if reporting on the estimated grant element of a financing package provides competitors with significant insight into a firm's cost of capital from the market, which might be commercially sensitive. On the other hand, it might provide competing firms with an idea of how much subsidy they might expect were they to develop a similar project, and the IFC should want that kind of information out there—it should make deal origination come a bit easier. More fundamentally, the taxpayers who provide this finance, as well as the client countries of IDA which would otherwise have received it, have the right to know how it is being used.
Correction: An earlier version of this blog said average PSW support was $9 million and IFC and MIGA would have to close 278 deals by the end of IDA 18 to spend the money. The IDA document states the average PSW support is $9 million, but by that meant median as opposed to mean.
Disclaimer
CGD blog posts reflect the views of the authors, drawing on prior research and experience in their areas of expertise. CGD is a nonpartisan, independent organization and does not take institutional positions.