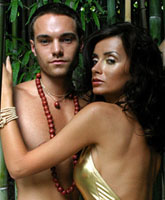 When I told my co-workers I was going to an event called "
Fashion Fights Poverty
" (co-sponsored by the
United Nations Association of the National Capital Area
), the reaction was a mixture of amusement and interest on the one hand, and distaste and ridicule on the other. Those of us who work in development are apt to react the same way when we see celebrities posing with poor African children. Why does the growing trendiness of poverty make the development community squirm? The event to promote socially-conscious designers was held at an upscale clothing store in an up-and-coming part of DC. The room was crowded with expensive clothing and photographers. Music played as beautiful people sipped cosmos and passed out copies of the
Millennium Development Goals Report
(pdf). A young woman in stilettos strutted as if on a catwalk next to a display of beads made by women in rural Uganda. It's easy to mock the incongruity of it all. The idea that
haute couture
can help a family struggling to survive in Bangladesh is the stuff of
Stephen Colbert
and
Saturday Night Live
. It's also an intoxicating change of pace for those of us used to working behind a computer all day (let's face it: a fashion show is cooler than running regressions). But all that pretension and exclusivity can illicit disgust too, and we may find ourselves deriving a strange satisfaction from the assumption that their commitment to the poor is shallow at best, and that as soon as something else cool comes along they'll jump off the poverty train faster than a bandit in a John Wayne movie. My colleague Todd Moss captured this unease well in his controversial satirical posting:
So Many Fabulous Ways to Save Africa
. But unless I'm wrong, there's something else at work here too. Beyond the amusement or disgust, part of what we see at an event like Fashion Fights Poverty is our own dilemma magnified: the dilemma of being rich people in a world of want, of being well-fed when so many are hungry, of being people who amass possessions while others struggle to survive. And part of what we feel, then, is guilt. What is the answer? To forego nice cars, expensive clothing, that trip to Starbucks in the morning and settle for Folgers instead? Maybe. Who knows? But enjoying these things does not necessarily make our concern any less genuine, and that brings me back to the trendy and fashionable crowd from the other night. I think Fashion Fights Poverty is a good thing. It shows people are aware that something is tragically wrong in the world and are trying to find ways that they can help. Evidence of this trend seems to be everywhere. Last week
Sir Richard Branson
announced that he would put $3 billion in personal profits toward development of energy resources that do not contribute to global warming. His was just one of several announcements coming out of the
Clinton Global Initiative
, a meeting of the wealthy and famous and philanthropic in New York. Or check out the latest
Marie Claire
--the fashion magazine's article "Red, Hot and Blue" features photos of Brookings senior fellow Susan Rice (read her paper
Global Poverty, Weak States and Insecurity
) modeling upscale clothes along with
Fareed Zakaria
of
Newsweek
and James Bennet of
Atlantic Monthly
, among others. Talk about the politics of cool. If the movement to fight poverty among the famous and fashionable (and among the masses of young people who pay attention to them) proves to be just a trend, it will not be because they stopped caring about the poor. It will be because development experts--who work tirelessly studying and writing and knocking on the doors of the policy elite of Washington--forgot to offer them real, scalable solutions. CGD's
Rich World Poor World
series to educate non-specialists in the basics of development is a start--it can help the newly-interested understand the complex nature of the problems and the complex nature of trying to solve them. The
Commitment to Development Index
takes it a step further, by ranking the rich. But we must do more. Otherwise the movement will languish because, beyond signing their names to the
One Campaign
and buying an occasional pound of fair trade coffee, genuinely concerned people simply do not know what to do.
Disclaimer
CGD blog posts reflect the views of the authors, drawing on prior research and experience in their areas of expertise. CGD is a nonpartisan, independent organization and does not take institutional positions.