There were no surprises among MCC's FY2016 picks for country eligibility. 
As I predicted, Cote d'Ivoire and Kosovo are new picks for first compacts, and Senegal was selected for a second compact. Nepal, Niger, and the Philippines were reselected to continue developing their compacts, and—as I flagged might happen—decisions on continuing compact eligibility for Lesotho and Tanzania were deferred pending further progress on each country's political crisis. Togo and Sri Lanka were selected to start developing new threshold programs.
What's noteworthy about these choices is how they reflect the agency's positioning on some interesting operational questions.  In particular, this year's country picks demonstrate that:
1) MCC is serious about launching regional investments—and they're lining up West Africa and South Asia. 
A top MCC priority is to expand its operations to include regional investments.  Legislation introduced in Congress (H.R. 2845, H.R. 2571, S. 1605) would enable the agency to pursue regional investments more easily, but MCC is already thinking about regions that would make sense.  The agency has frequently mentioned both West Africa and South Asia as possible focal points for regional investments, and this year's selection decisions confirm those geographic priorities.  MCC's presence in West Africa is particularly strong, with six countries developing or implementing compacts and another two developing or implementing threshold programs.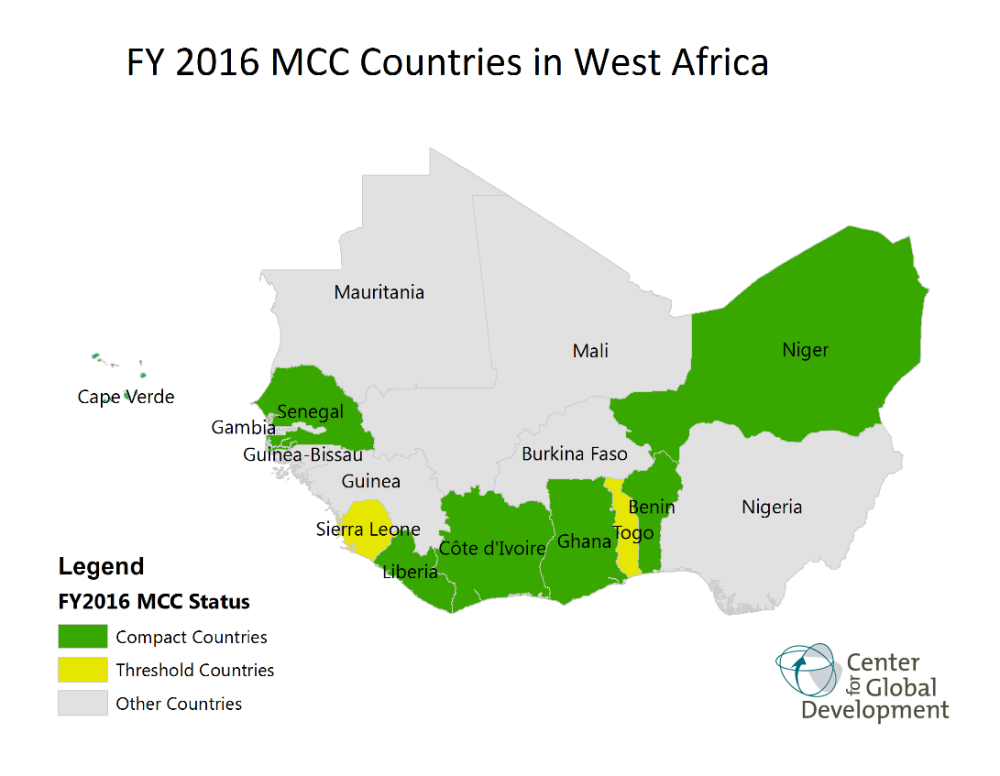 MCC has less presence in South Asia, but with a compact in Nepal, a threshold program in Sri Lanka, and the prospect of a "strategic partnership" with India, there are certainly strong prospects for cross-border efforts.
2) MCC isn't letting its (absurdly) rigid graduation rules hold it back
Each year, countries transition from lower middle income status to upper middle income status and therefore out of MCC candidacy.  This year, Mongolia (which was in the midst of developing a second compact) was one of those countries.  While countries usually have to be reselected every year until they sign a compact, the board couldn't choose Mongolia this year because it wasn't a candidate.  However, unlike the one prior time this happened to a country in a similar situation (Colombia, which graduated the year after it was selected for a compact), the board stated its support for continuing the partnership with Mongolia (MCC decided not to pursue a compact with Colombia).  Not only that, MCC is now charging forth with another country likely to graduate in the very near term—Kosovo. 
It's encouraging that MCC and its board recognize that a graduation from candidacy does not imply a sudden, major shift in a country's poverty profile or need for grant funding.  Unfortunately, MCC's rigid graduation rules don't reflect that reality.  Unlike most other donors with income-based eligibility requirements for certain funds, MCC's legislated definition of candidacy does not offer a gradual phase out.  While legally MCC can continue to work with graduated countries as long as funding from the prior year(s) in which they were eligible remain available, a statutory change to enable a more gradual graduation could make better sense.
Disclaimer
CGD blog posts reflect the views of the authors, drawing on prior research and experience in their areas of expertise. CGD is a nonpartisan, independent organization and does not take institutional positions.