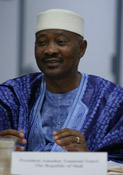 Mali President Amadou Touré, in town to ink a $461 million Millennium Challenge Account grant for his country, stopped by CGD last Monday for lunch with CGD staff, members of the diplomatic community, and supporters of Touré's democracy efforts. Mali is an especially interesting case for those promoting democracy as an essential basis for sustainable development. Touré came to power in a coup against a military leader who himself came to power through a coup. But following his assumption of power, Touré took a very different path than most military leaders take, stepping aside for a civilian government two years after he took power. It was only after two terms of presidential rule by Alpha Oumar Konaré that Touré ran and won election for presidency.
Touré opened our lunch time conversation with a short history lesson on Mali, then asked and tried to answer the central question about Mali's democracy process: why has Mali been successful in establishing democratic rule while most other African countries have struggled and many have failed on this front? Touré's main argument was both instructive and worrying for much of the rest of Africa. Mali's success, according to Touré, can be found in long-ago historical forces that, well before the first election, shaped a Malian nation that was more naturally cohesive and less tribally divided than many African countries.
Mali's experience under Touré demonstrates that African countries can aspire to democracy even if the starting point is singularly undemocratic. But it also suggests a lesson that is often lost on promoters of democracy: history matters. In Mali's case, history would appear to have worked in its favor as it launched a modern democratic state but the history of many newly democratic states is not nearly so encouraging.
CGD visiting fellow Ethan Kapstein is just finishing up a book that tries to sort out what matters when it comes to sustaining democracies. Kapstein's work suggests a couple of important lessons for President Touré and his team going forward, some positive and some negative. One of the findings that works against success in Mali is that richer developing countries do better in sustaining democratic reforms than do poorer countries, and Mali is well below the income threshold for likely success. On the positive side, legitimacy of leadership appears, not surprisingly, to be a key factor in successful democratic transitions, as do policy reforms and economic development that bring widespread benefits to a country's people. From Kapstein's work I would say that President Touré is off to a good start, but has his work cut out for him. A key test will be whether or not he and his government can use MCA funds to the benefit of a wide segment of Mali's population. If yes, this beacon of democracy in Africa may well continue to shine.
Disclaimer
CGD blog posts reflect the views of the authors, drawing on prior research and experience in their areas of expertise. CGD is a nonpartisan, independent organization and does not take institutional positions.