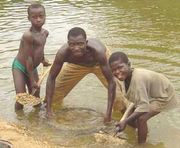 The UN Security Council has lifted its ban on diamond exports in Liberia, on the grounds that the post-conflict country has made significant progress in establishing necessary internal controls to comply with the Kimberley Process--a mechanism intended to keep blood diamonds off world markets and to ensure that all diamonds exported are certified. This is the second vote of confidence for President Johnson Sirleaf, following an ease on a timber ban last year. It shows that the international community has faith that the country can turn its back on the brutal past, where diamonds were used to finance weapons and fund fighting in a horrific 14 year civil war.
This is potentially great news for Liberia. In particular, diamond revenues could be used to fund much-needed post-conflict reconstruction programs and create jobs in a country with an unemployment rate hovering around 85%. However, as my colleague Todd Moss and I have noted, the Kimberley Process can only do so much. And the transition from blood diamonds to "development diamonds" is much harder in a place like Liberia which has a high concentration of alluvial diamonds. Unlike Kimberlite diamonds (which require intensive, centralized operations), alluvial diamonds lend themselves to artisanal, decentralized mining, which leaves the Liberian diamond industry relatively open to smuggling and grey market transactions. This could threaten to rob Liberia of much needed revenues and undermine fragile state institutions.
While the Security Council's stamp of approval is a sign of how far Liberia has come in a few short years, Liberia's transition is ongoing, and it is too soon to pronounce it a success. The international community must remain constructively engaged in the war-ravaged country, and continue to keep a close eye on Liberian diamonds, in order to ensure that Liberia's recent sunshine doesn't turn out to be a false dawn.
Disclaimer
CGD blog posts reflect the views of the authors, drawing on prior research and experience in their areas of expertise. CGD is a nonpartisan, independent organization and does not take institutional positions.