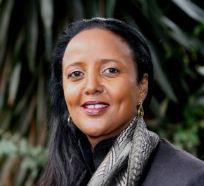 My guest on this Wonkcast is Amina Mohamed, Assistant Secretary-General of the United Nations Environment Programme (UNEP), and one of the nine candidates to become the next director general (DG) of the World Trade Organization (WTO). Mohamed tells me she is extremely familiar with the DG selection process, as she managed it eight years ago while working within the WTO. Now that Mohamed is herself a candidate, she says that she is well-qualified to lead the WTO and confident to let her track record speaks for itself.
She tells me her most significant contribution to the WTO was helping to negotiate the Agreement on Trade-Related Aspects of Intellectual Property Rights (the TRIPS agreement).
"This was a very humbling experience for me because it was negotiated at a time when Africa was going through an HIV pandemic," Mohamed explains. "For the amendment, we were focusing on issues that relate to the compulsory licensing and importation of generic drugs -- specifically for HIV/ AIDS, malaria and tuberculosis, and these were issues that were of great concern to Africa."
Mohamed tells me the negotiated TRIPS agreement was historic for several reasons. The agreement made affordable lifesaving drugs for people who previously could not afford them. In addition, prior to the TRIPS negotiation, a trade related treaty had never been amended.
I ask Mohamed if her experience amending the TRIPS agreement provided lessons for breaking the stalemate on the Doha Development Round of trade talks, which were designed to bring benefits to the least developed countries. Her answer: "Yes."
"The WTO is not about dogma and fragility," Mohamed says. "It can adapt and be flexible, and we can make the compromises we need to make to make sure we create progresses, address concerns, and rise to the occasion."
In regards to the Doha Round, Mohamed tells me the negotiations should be inclusive and transparent, and members sitting around the table need to feel their voices matter. She also expresses a concern for the tendency to hold frequent mini-ministerials outside of Geneva. The professional trade negotiators with access to their home governments are stationed in Geneva, so it makes sense to do most of the work there, she argues. 
Later in the interview, I note that Mohamed's statement to the WTO General Council was the only statement to mention the WTO role in climate change.
"The WTO has to be part of global problem solving, and climate change is an issue of global concern… It affects the flow of goods and services," she explains.
Specifically, Mohamed tells me she favors a special trade liberalization of environmental goods and services, above and beyond other goods.
"There was a meeting that took place on liberalization of environmental goods and services in Russia," she explains. "A lot of the major players there agreed on a list on a list of products they could convince members of WTO in Geneva to move forward on."
I ask Mohamed what her main priority would be if selected as the next DG.
"Negotiations. The WTO was established in order to set rules and open markets. That was the diamond standard that the WTO set for itself and we should not move away from that so that for me has to be the top priority."
Mohamed also explains that other stakeholders should be involved in negotiations – including civil society and business. She tells me she is already working with WTO members to establish a business advisory council to meet these ends. 
We end the Wonkcast by discussing the relationship between the WTO and the growing proliferation of bi-national and regional Free Trade Agreements (FTAs). Mohamed says these newly-negotiated FTAs should operate on a basis of non-discrimination, and they should not delegitimize the WTO by creating new dispute settlement mechanisms.
The full interview is available above. This is the seventh in a planned series of Wonkcasts with candidates to become the next director general of the WTO. To learn when new interviews are posted, sign up for our weekly Development Update.
My thanks to Alex Gordon for editing the Wonkcast and for providing a draft of this blog post.
Disclaimer
CGD blog posts reflect the views of the authors, drawing on prior research and experience in their areas of expertise. CGD is a nonpartisan, independent organization and does not take institutional positions.
Topics