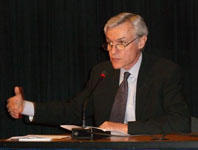 Dennis de Tray, a former senior World Bank official who became CGD vice president on Feb. 1, has urged the Bank to maintain a balanced perspective and exercise patience in the fight against corruption in developing countries. "More practical advice and less rhetoric would be a good way to increase our effectiveness in the fight against corruption," de Tray said in a farewell speech to friends and colleagues.
"No one denies that reducing corruption and improving governance strengthen the odds for sustainable development and poverty reduction. But the relationship between governance and corruption and development is more complex than often portrayed. It is not black and white, not 1 or 0," he said.
De Tray, whose career includes 12 years on the frontlines of development assistance delivery, said that corruption and weak governance often stem from poverty within government: poverty in the traditional sense (the low wages of officials), poverty of opportunity, and poverty of institutional support.
Speaking at Bank headquarters in Washington late last week, he said that the Bank officials working in poor countries must constantly weigh whether their involvement perpetuates a problem or contributes to a solution. The answer is rarely straightforward, he said. "It's just too easy to sit in Washington and say we should be tough on corruption," he said. "In the real world, there are many shades of grey."
The need for patience and balance in the fight against corruption was a familiar theme for many in the audience, some of whom recalled being present in March 1999, when de Tray, who was Indonesia country director during the 1998/99 Asian financial crisis, gave his first farewell speech, "Why did things go wrong? Lessons from the trenches of Indonesia." After a stint as IMF country director in Vietnam, de Tray returned to the Bank and became country director for the "Stans" – five former Soviet republics in Central Asia.
One of those countries, Uzbekistan, epitomizes many of the most difficult challenges described in de Tray's speech. Formerly an ally of the U.S. in the "war on terror," Uzbekistan expelled U.S. troops from its Soviet-era air base in mid-2005 and has since strengthened ties with Russia. The World Bank has been debating its strategy in Uzbekistan for nearly a year now, and corruption is one factor in that debate.
According to de Tray, the irony of this debate is that while there may well be many reasons for not working with the Uzbekistan government, corruption is probably not high on the list. Even in the current difficult environment the Bank has shown it can improve the lives of Uzbekistan's poor, so pulling out would hurt those the Bank is supposed to be helping, de Tray said.
De Tray said that decentralization--having senior Bank staff resident in the countries they serve--had been crucial to improving the Bank's effectiveness. To make the most of decentralization, the Bank should rely more on talented local staff and provide adequate incentives for the Bank's most experienced and able international staff to work in the most challenging countries. He argued that at present, the toughest jobs attract too few qualified applicants.
"Dealing with corruption and poor governance is tantamount to dealing with development. This is a long-term agenda, not a go or no-go variable except in extreme cases," he said. "If we are not careful in the way we deal with corruption, we will set up even sincere and committed leaders for failure and could end up creating just the failed states we are trying to prevent."
Disclaimer
CGD blog posts reflect the views of the authors, drawing on prior research and experience in their areas of expertise. CGD is a nonpartisan, independent organization and does not take institutional positions.