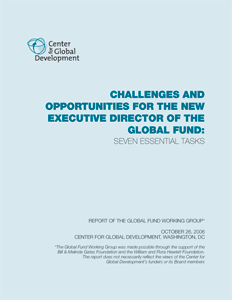 Many aid-giving institutions talk the talk about "country ownership," "accountability" and "transparency," but the Global Fund to Fight AIDS, Tuberculosis and Malaria has taken those principles to a whole new level by structuring its entire organization around them. This innovative model has achieved a number of real successes, but has also led to a variety of challenges, as described by Steve Radelet in a recent CGD Q&A. Now nearly five years old, the Global Fund faces a critical juncture next week when the Board of Directors appoints a new Executive Director. The five final candidates are assessed in a new Lancet editorial (free registration required), which effectively endorses Michel Sidibe for the position. Mr. Sidibe, in turn, has co-authored a separate article in the Journal of the Royal Society of Medicine discussing many of the same challenges and lays out four key questions facing the Fund moving forward.
No matter who is selected, the new Executive Director is certain to play a central role in addressing the Fund's challenges, a daunting task given the complex environment in which the Global Fund operates. Luckily, the ED is not alone -- a CGD working group has just released a report that identifies the seven most critical tasks facing the new ED and issues recommendations on how to tackle them. We welcome comments on the report, and hope that it serves as a good starting point to ensure that the Global Fund maximizes its potential impact going forward.
Disclaimer
CGD blog posts reflect the views of the authors, drawing on prior research and experience in their areas of expertise. CGD is a nonpartisan, independent organization and does not take institutional positions.