First Lady Michelle Obama recently visited Liberia, Morocco, and Spain as part of Let Girls Learn, a US government initiative that works to provide adolescent girls around the world with quality education. As part of her tour, Obama announced an MCC commitment of nearly $100 million to be put toward secondary education in Morocco. Though the money was already allocated for this purpose in the 2015 Morocco compact, the $100 million and other similar announcements made during Obama's trip certainly created quite a buzz. In light of these investments, which follow the recent release of the US Global Strategy to Empower Adolescent Girls, we're looking at concrete ways that MCC can build on the momentum and continue to integrate a focus on adolescent girls into its operations.
In CGD's last blog post on the new strategy, we commended the US government for leading the charge for adolescent girls—by issuing the first-ever country strategy specifically focused on the demographic. But how do we make sure that this articulated commitment continues to get translated into concrete action? What can MCC specifically do to implement the new strategy while adhering to its unique model that emphasizes good governance, country ownership, and results and pursuing its mission of poverty reduction through economic growth?
One opportunity may lie in MCC's country scorecards, used to determine which countries are eligible for the agency's grant financing. Indeed, this is a prospect MCC itself raised as a possibility in its portion of the adolescent girls strategy:  
As an example of the type of refinements MCC might consider in the future, MCC could explore indicators related to adolescent girls, such as child marriage, and secondary education for low-income countries, among others.
The biggest value of including an eligibility indicator focused on adolescent girls would be the signal it would send. The scorecard indicators reflect MCC's priorities to current and potential country partners, and could generate additional attention or interest in this area. We know that this signaling can make a difference; for example, in 2012, Cote d'Ivoire reformed its family code in order to improve its scorecard performance and eventually be considered for compact eligibility.
Picking indicators for MCC's scorecard is not a simple process, of course. Not all the things that MCC might want to measure have indicators that cover enough countries, are updated regularly, are policy-actionable, have a relatively consistent methodology, and are linked with poverty reduction and economic growth. But there are some plausible options for indicators related to adolescent girls.
One of the most promising is adolescent birth rate (aged 15-19 years) per 1000 women in the age group (Source: United Nations Department of Economic and Social Affairs, Population Division, World Population Prospects), which measures the annual number of births to adolescent girls 15 to 19 years of age per 1,000 individuals in that age group.
This indicator would need more research and testing to determine if it's the right fit for MCC's scorecard, but there are a number of reasons it's worth exploring. First of all, data for this indicator is available for 95 percent of countries on a yearly basis. In addition, adolescent birth rates (and attempts to decrease them) also have a strong relationship to MCC's overall mission of poverty reduction and economic growth. Girls who become pregnant during adolescence experience higher rates of school dropout and have more children overall, each of which has long-term implications for their ability to participate in the labor force and invest in the health and education of their children and themselves. Delaying adolescent births has the potential to slow population growth rates, generating broad economic and social benefits, in addition to improving the health and well-being of adolescent girls themselves.
From a methods perspective, the adolescent birth rate indicator largely draws upon data from civil registration and vital statistics (CRVS) systems, relying on census/survey data as back-up sources when necessary. The data it relies upon is certainly imperfect (see a recent discussion about the progress left to be made in CRVS systems here), but not more so than many other sources. In fact, MCC already relies on similar UN Population Division data for its child health indicator, with child mortality data coming from CRVS systems with household surveys as a back-up source. For a more detailed comparison, see information about the adolescent birth rate data and the child mortality data.  
As with many indicators, there is a slight income bias—higher income countries tend to score better—but the bias is less pronounced when low and lower middle income countries are evaluated separately, as they are for MCC eligibility.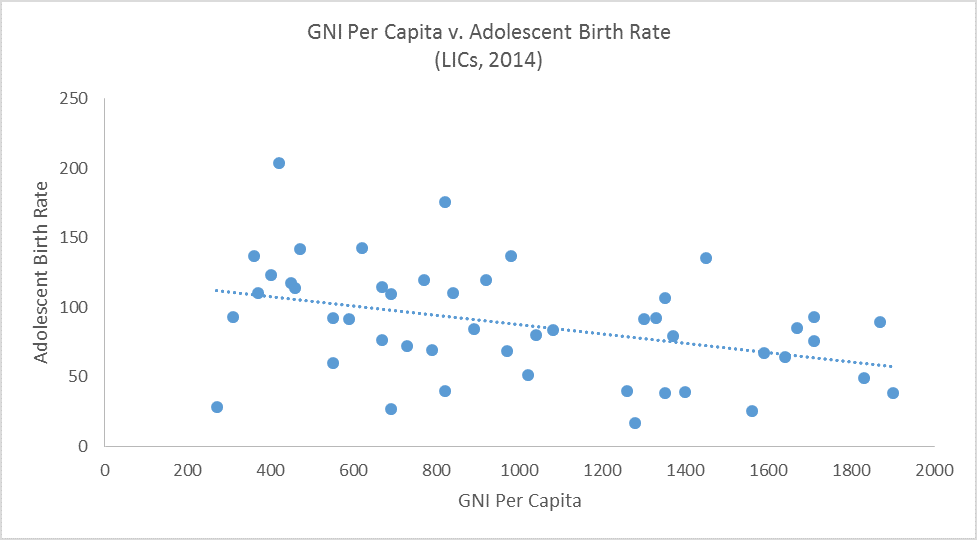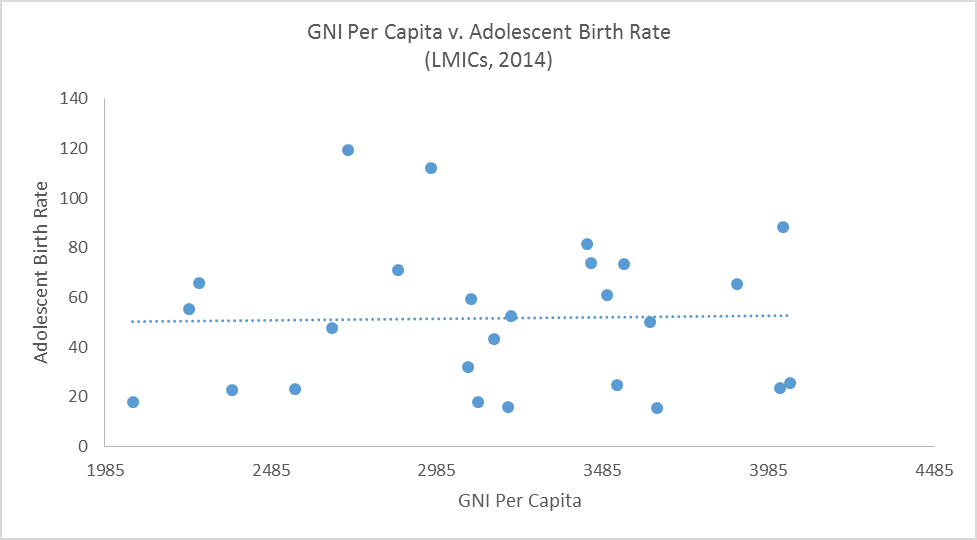 What about the two potential indicators that MCC mentions in the adolescent girls strategy, focused on girls' secondary education in low-income countries and child marriage?
Girls' Secondary Education: Net female enrollment in secondary school (for low income countries)

MCC already includes girls' secondary education enrollment rates as a selection indicator for lower middle income countries (LMICs), and the adolescent girls strategy raises the possibility of expanding this to low income countries (LICs) as well.

For the moment, however, there are good reasons for MCC to stick with the indicator focused on girls' primary education completion in LICs. Though ideally MCC will eventually get to the point with LICs that it did with LMICs (where so many had such high enrollment rates that countries were "failing" with over 90 percent enrollment), for now there is still quite a lot of work to be done before that point is reached. The current median rate of girls' primary school completion among low income MCC countries is only 71 percent; in many countries, like Mali, Mozambique, and Niger, only about half of girls complete primary school (Source: UNESCO Institute for Statistics).

Child Marriage: Proportion of women aged 20-24 who were married or in a union before age 15/18

Data for this indicator is widely available for LICs and LMICs, but periodicity may be more of a problem. Unlike adolescent birth rates, UNICEF data on child marriage is currently collected just through national censuses and household surveys. CRVS systems aren't reliable for this information since oftentimes child, early and forced marriages are not officially registered with the state, as they violate laws criminalizing the practice. Unfortunately, survey data aren't collected and updated as frequently as MCC usually wants for a scorecard indicator; some of the current data relies on surveys dating as far back as 2003 (Source: United Nations Children's Fund).

While child marriage is both a human rights and development issue that merits serious attention, adolescent birth rates—as an indicator—is probably preferable due to better data coverage and periodicity, and similar connections to poverty reduction and economic growth.
While MCC should explore the inclusion of an indicator focused on adolescent girls in its eligibility criteria, this is certainly not the only way for the agency to better include consideration of this important demographic in its programming. Stay tuned for more proposals—for MCC and the rest of the US government—coming soon.
Disclaimer
CGD blog posts reflect the views of the authors, drawing on prior research and experience in their areas of expertise. CGD is a nonpartisan, independent organization and does not take institutional positions.