Center for Global Development Senior Fellow Frances Seymour Receives France's Order of Agricultural Merit
Washington, D.C. (April 16, 2014) – Frances Seymour, senior fellow at the Center for Global Development, has been awarded the title of Officer by the French Republic's Order of Agricultural Merit (Officier de l'Ordre du Mérite Agricole) for her work as Director General of the Center for International Forestry Research (CIFOR) from 2006 to 2012.
The Order of Agricultural Merit is bestowed by the French Republic to individuals for outstanding services to agriculture in public duties or in the practice of agriculture. It also rewards people who distinguish themselves in scientific research or in related publications. The rank of "Officier" is one step higher than the rank of "Chevalier", or "Knight". It is rare that the Republic of France bestows one of their most distinguished awards on an American woman.
Seymour received her Officer decoration and a certificate signed by Minister of Agriculture Stéphane Le Foll in February at a ceremony hosted by the French Ambassador to Indonesia, Her Excellency Corinne Breuze. The ambassador praised Seymour for her leadership in encouraging dialogue between the worlds of science and policy, developing a culture of impact assessment at CIFOR, establishing the annual Forest Day, and insisting on the highest quality of scientific research. Headquartered in Bogor, Indonesia, CIFOR conducts policy research on the use and management of forests in less-developed countries.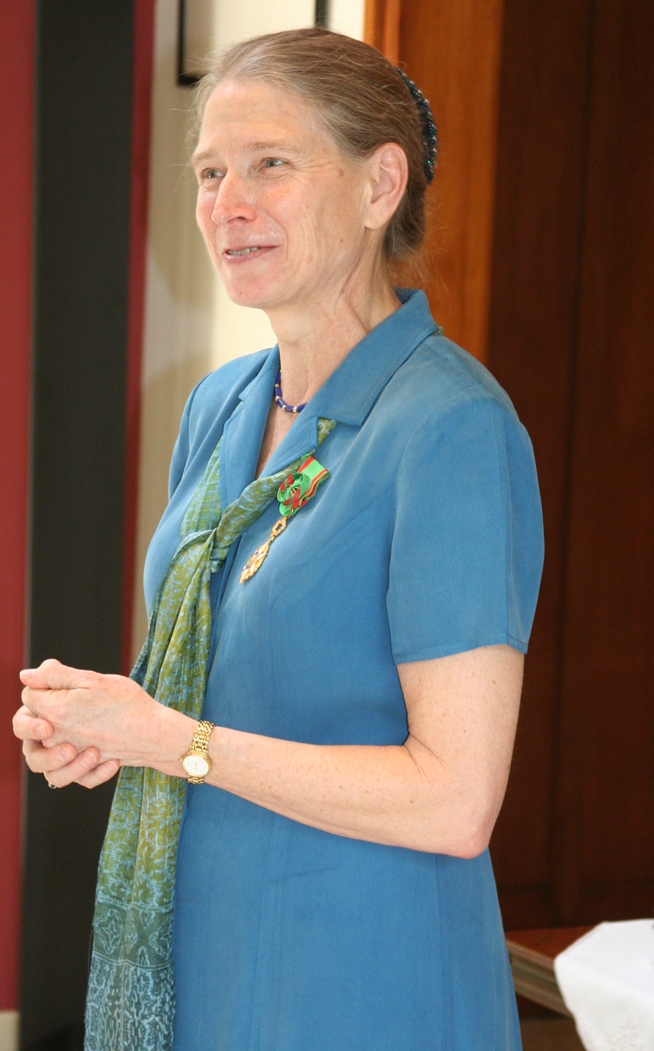 "Your exceptional dynamism, your visionary thinking never prevented you from listening to partners and from remaining open to their concerns. This is a very rare quality among leaders," Ambassador Breuze said at the ceremony. Importantly, Ambassador Breuze also acknowledged Seymour's success at CIFOR "would not have been possible without the experience gained previously within the World Resources Institute, World Wildlife Fund, the Ford Foundation or the USAID."
On May 1, Seymour will be honored at a reception hosted by the French Embassy in Washington, DC. Remarks will be given by Embassy General Consul Oliver Serot Almeras, CGD President Nancy Birdsall, and World Bank vice president and special envoy for climate change Rachel Kyte.
Birdsall said: "The French Republic chose well when it selected Frances Seymour for this honor. She has been a great asset to us here at CGD, where her work is helping to broaden policymakers' appreciation of the close linkages between forest protection, successful development and reduced climate change threat. Frances epitomizes the combination of research rigor and practical policy experience that is a hallmark of our work at CGD."
French Ambassador to the United States François Delattre offered his commendation to Seymour on this high accolade. "It is a great honor for me to welcome Frances Seymour, senior fellow at the Center for Global Development, to the French Embassy. I am particularly delighted that she has been promoted to the rank of Officer of the Order of Agricultural Merit in recognition of her eminent contribution to the protection of our ecosystems—a topic dear to both France and the United States, and important to the cooperation between our countries," he said.
Kyte said: "In a world where we struggle sometimes to find ways to bring science, evidence and data smoothly into policy, and to go from the lab to the field or the forest, through both public and private sectors, quickly, Frances' career is testament that it can be done."
As a CGD senior fellow, Seymour leads the Tropical Forests for Climate and Development initiative. Her work has focused on creating a global consensus about the importance of forest conservation and promoting results-based financing for REDD+ (Reducing Emissions from Deforestation and Forest Degradation).
She is also the lead author of a forthcoming CGD report, Why Forests, Why Now?, which will present evidence of the urgency, affordability, and feasibility of rich country support for reducing deforestation to improve rural livelihoods and avert catastrophic climate change. In addition she is a member of a CGD working group that is identifying means for rapidly scaling up pay-for-performance finance for forest conservation.
###
The Center for Global Development: CGD works to reduce global poverty and inequality through rigorous research and active engagement with the policy community to make the world a more prosperous, just, and safe place for all people. As a nimble, independent, nonpartisan, and nonprofit think tank, focused on improving the policies and practices of the rich and powerful, the Center combines world-class scholarly research with policy analysis and innovative outreach and communications to turn ideas into action.